Your website has been up and running for a while now, but do you know what your audience thinks of it? If you find yourself constantly wondering whether your visitors are enjoying the content that you put out on a regular basis, a polling plugin can work to your benefit.
Here are 11 poll plugins that will help you understand your audience better.
Opinion8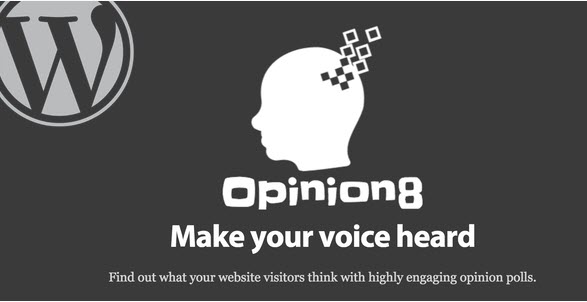 This fully customisable plugin lets you gather your data and then prompts your visitors to share the results with their own networks (which will hopefully bring you even more visitors). Since each poll can have related polls that link to other articles, this plugin provides you with a fantastic way to promote your content.
To learn more about Opinion8, click here.
Easy Polling Plugin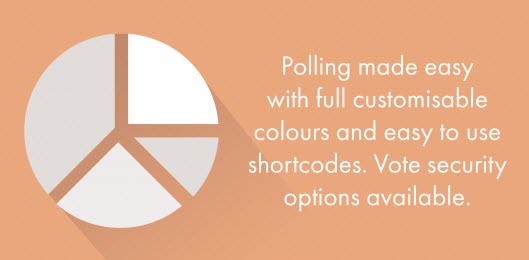 This plugin is not only super easy to use, it's also fully customisable to your own individual tastes. This plugin lets you choose whether you'd like to see a percentage or number display, lets you run an infinite amount of polls on infinite topics, and even lets you hide voting results until the poll is over.
To learn more about the Easy Polling Plugin, click here.
BuddyPress Polling and Social Polling (add-ons for the Easy Polling Plugin)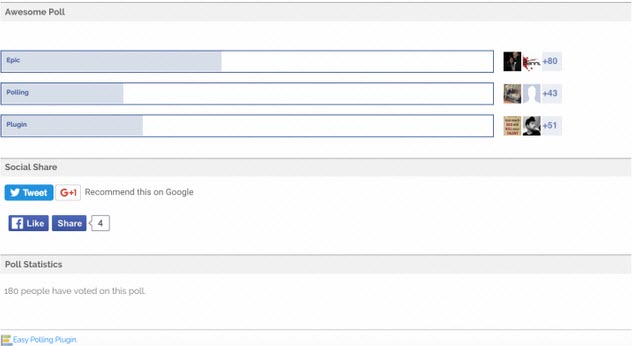 If you decide to go with the Easy Polling Plugin for your website, you're going to want to consider adding even more functionality to it by adding BuddyPress Polling and Social Polling (which both just happen to be on sale right now).
Social Polling gives you the opportunity to turn your poll into a Facebook Questions style poll instead. With this add-on, people will be able to use their Facebook profiles to answer you, giving you peace of mind that the votes are coming from actual people and not bots. Click here to learn more.
The BuddyPress Polling Plugin lends some serious functionality extension to the Easy Polling Plugin. Get it on sale here.
WP PRO Poll System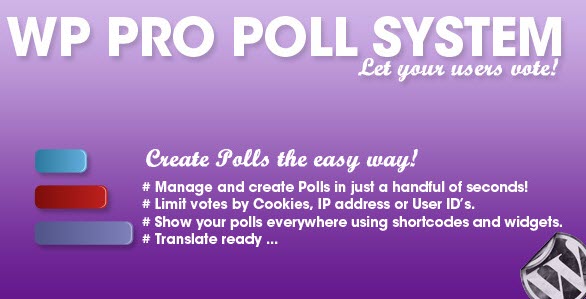 The WP PRO Poll System comes equipped with a ton of features that allow you to make your polls as professional looking and easy to use as you'd like. You can add your polls to your website using shortcodes and/or widgets and – if you want to – you can even add multiples polls within your posts or pages. Learn more by clicking here.
Poller Master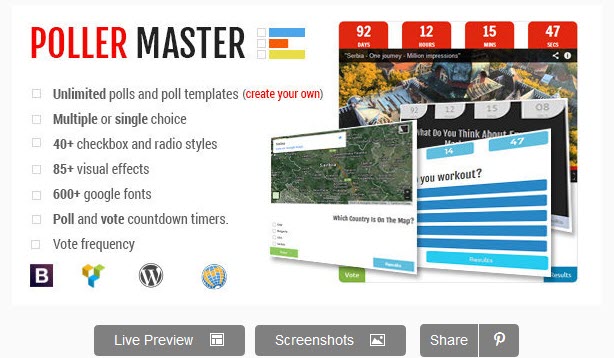 Wherever there's a WP editor (posts, pages, theme files, etc.), Poller Master is ready and waiting to be used. It works with images, videos, sliders, music files, and more. It even comes equipped with more than 600 google fonts! If you want to have complete creative control over your polls, this just might be the plugin for you. Click here if you'd like to learn more.
Modal Survey – WordPress Poll, Survey, & Quiz Plugin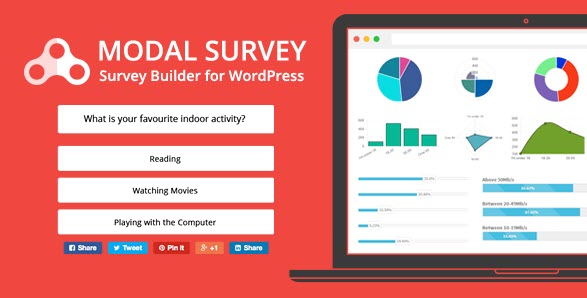 Maybe you think your audience would prefer more than just polls. Modal Survey gives you the opportunity to grab your data however you'd like and then present it in stunning visuals with spectacular colours. One of the included options allows you to display your poll (or product recommendation) like a popup, which might get you a better response rate. Learn more here.
Smart4y Poll Pro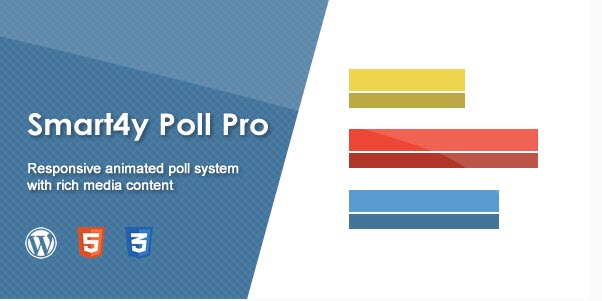 Smart4y Poll pro gives you the opportunity to quickly and easily place and manage polls on your website without needing to depend on a JavaScript library. You can add media content to your polls if you'd like, and then watch your progress bars grow in an animated colour of your choice. Want to insert your poll as a widget? That's doable too. Click here to learn more about it.
MegaPoll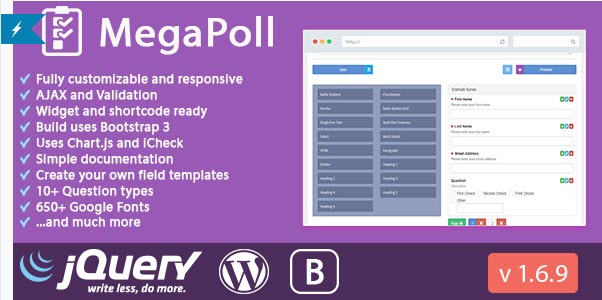 This Polling system comes equipped with complete browser compatibility, security settings to prevent duplicate votes, more than 650 font options, and more. Whether you want to set up a simple poll or a more advanced survey, MegaPoll's got what you need. Get it here.
GuessOn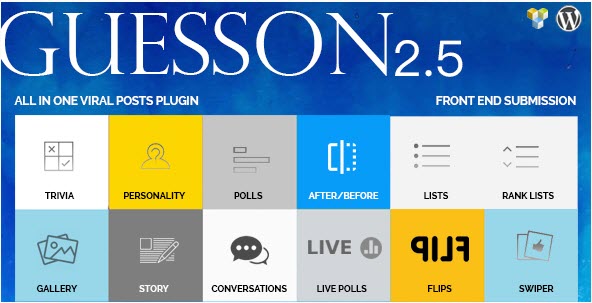 GuessOn gives you the ability to engage your audience through a variety of mediums and comes equipped with everything you need to start a 'viral' website. The more time your visitors spend on and interact with your website, the higher it's going to climb in search engine rankings. It comes with multilingual support, a ton of handy customisable features, and impeccable customer service speed. Learn more about GuessOn here.
Vote Up Down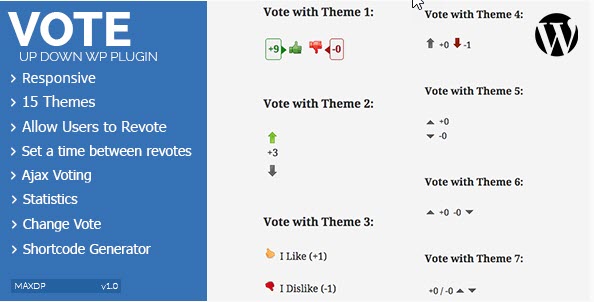 Want to know which products or pages of your website your visitors like the best? This is the plugin for your. It's simplistic design and easy to use system gives you the opportunity to put various up/down voting systems on pages, comments, products, and anywhere else you think one would be useful. Find out more about Vote Up Down by clicking here.
Dilemma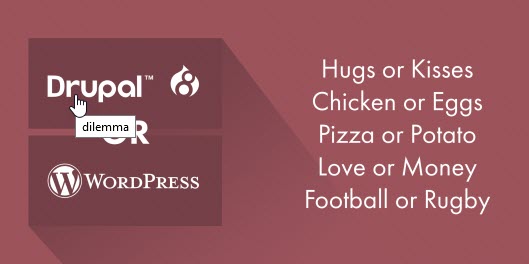 Similar to the up/down system, sometimes you just want to know whether your visitors prefer product A or B. Dilemma gives you the ability to engage your audience with these types of questions and then saves the results until after the voting is complete. Get it here.
Do you have a polling system installed on your WordPress site? Which one do you use and how has your experience with it been? Let us know in the comments section below and don't forget to share this post with any of your web developer friends.