Theme 2 was launched on the 1st January 2017. New Years Day. This is the de-brief post about that theme. If you've not seen the theme it's the Epic Timelime Theme and it's available here.
The objectives of the 12 WordPress Themes in 12 Months is as follows:-
Help me to produce more products for Epic Themes.
Give me a way to streamline the development process
Find what works and what doesn't when it comes to things like

Launch emails
Special offers
Build up to the Theme Launch
Customer feedback
When I started, the Epic Themes domain had one blog post on it, and no products (products were instead sold via this website, as it had been around longer).
So, through the project I'm actually working on growing a successful WordPress Theme business (albeit on this blog, the epic plugins blog).
23rd Jan 2017
Throughout the project I'll be taking a cut of the epicthemes.com's ahrefs score. This is my metric for the success and growth of the business form a domain perspective. I'll also be keeping track of theme sales via the monthly transparency reports.
The first is the Ahrefs Rank, the 'UR' and the 'DR' scores.  First the 'UR'
URL Rating shows how strong is the backlink profile of a target URL on a scale from 1 to 100 (with latter being the strongest). This metric has the highest correlation with Google rankings, which means that pages with high UR tend to rank better in search engines.
And next the 'DR' score
Domain Rating shows how strong is the backlink profile of a target website on a scale from 1 to 100 (with latter being the strongest). Backlinks from sites with high DR carry more "weight".
This means the closer to 100 the scores are, the 'better' the website.  I'll also take a look at the progress over time. This is from the Backlink profile of epicthemes.com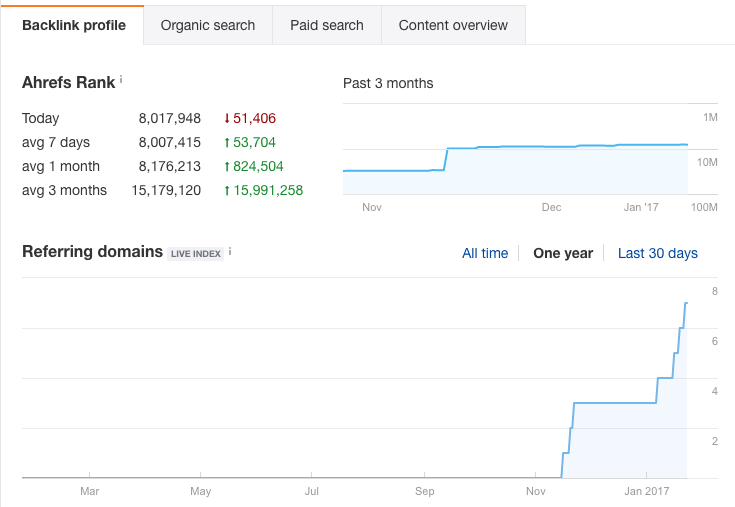 It's certainly growing..  which is a good thing. I'll touch on these metrics again towards the end of February to see if there's any improvement.
How did the Timeline Theme go?
Developing the Theme was a good exercise in getting designers to submit designs and gave me food for thought. While the launch day sales didn't result in any sales – the theme is a good addition to the themes available
Outreach and Theme reviews
I didn't actually reach out to anyone with this theme. It was a theme created for a couple of internal projects. At the moment it doesn't warrant the investment in paid reviews. Further into the project I'll be exploring different opportunities for paid outreach.
It's definitely an area which I need to improve on, improving the 'top of the funnel' and the discoverability of the themes available through Epic Themes.