It's time for me to actually write my year in review for 2017. I've been doing this for some time now and my previous year in reviews are below. As always, these reports are for me, but if you benefit from them, then I ask you to leave a comment on this post 🙂 it helps me keep going.
In 2016 I started writing monthly transparency reports, these take a lot of time to do (and, until November 2017, I hadn't missed a single one).
Then I started travelling, on the 11th November 2017 I embarked on almost 10 months of travel / remote working. I'm writing this year in review post from Cambodia, before moving onto Thailand as my next destination tomorrow.
What a year 2017 has been.
It's been crazy for me, I got married, worked my first full year purely on my own business (my last stint of contracting at my old job was in December 2016) and I even formed a new Company to stand behind a side project turned successful product.
Usually in my end of year review posts, I cover what I've generated financially, split by each source and try to look at trends and other analysis. So this year is no different. Below shows the revenue and also renewal income for epic plugins, epic themes and zero bs crm (renewals are of course the darker green coloured bars)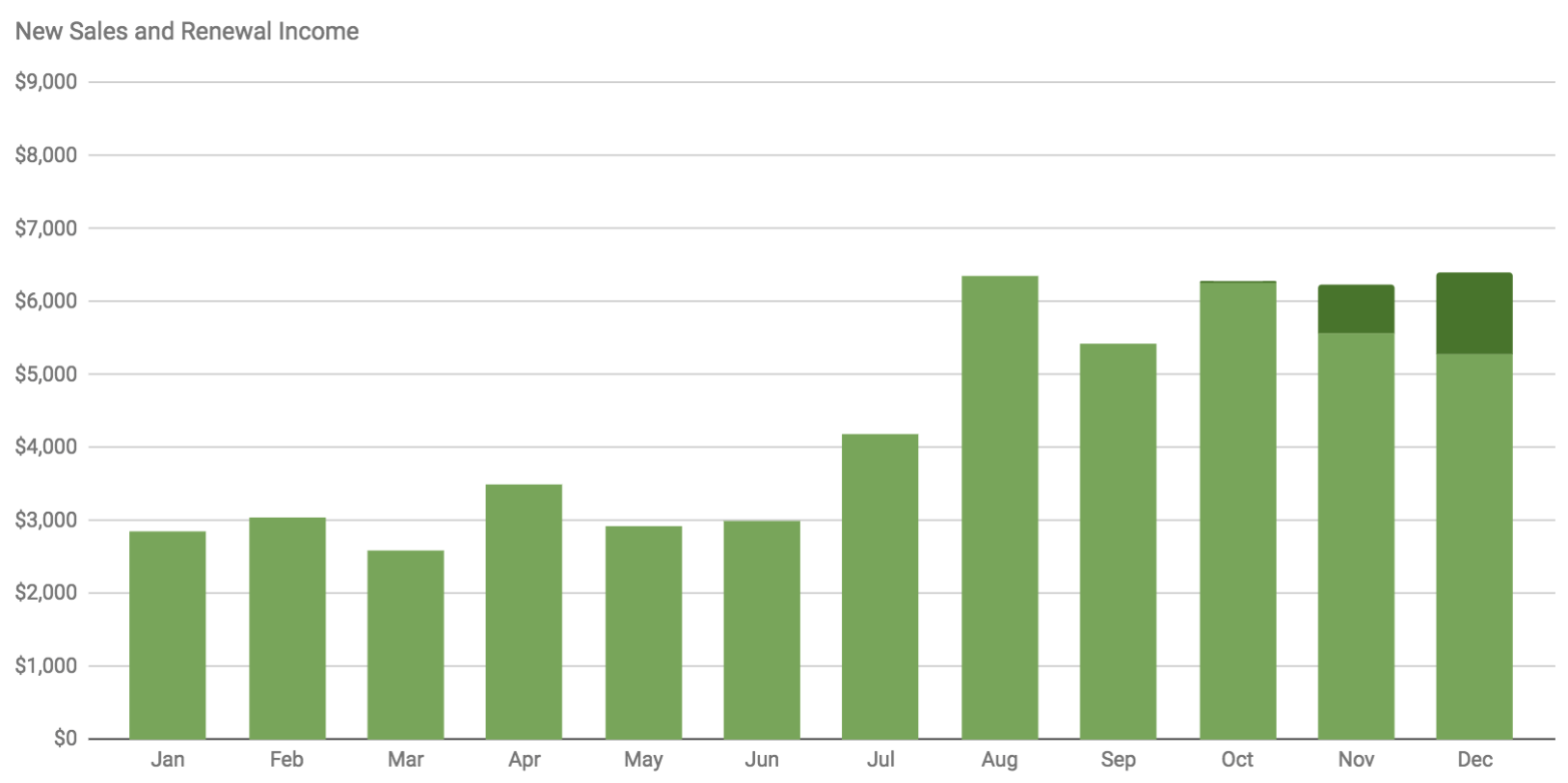 It's great to be able to report that over the year I've manage to double the revenues of the business and there's no hiding that the reason behind that is the development of Zero BS CRM over the year.
Zero BS CRM
You've probably heard me going on about this in previous updates, but over the year it's slowly taking up more and more of my time, support tickets have been ramping up, as have customers and pre-sale questions and barrels and barrels of development.
It's great to be able to have a product which is as big as Zero BS CRM and solves a real need, but it's also highlighted how super important it is to not try and do it alone. The chart above of course hides the fact that 50% of any Zero BS CRM revenues goes to the other co-founder, Woody.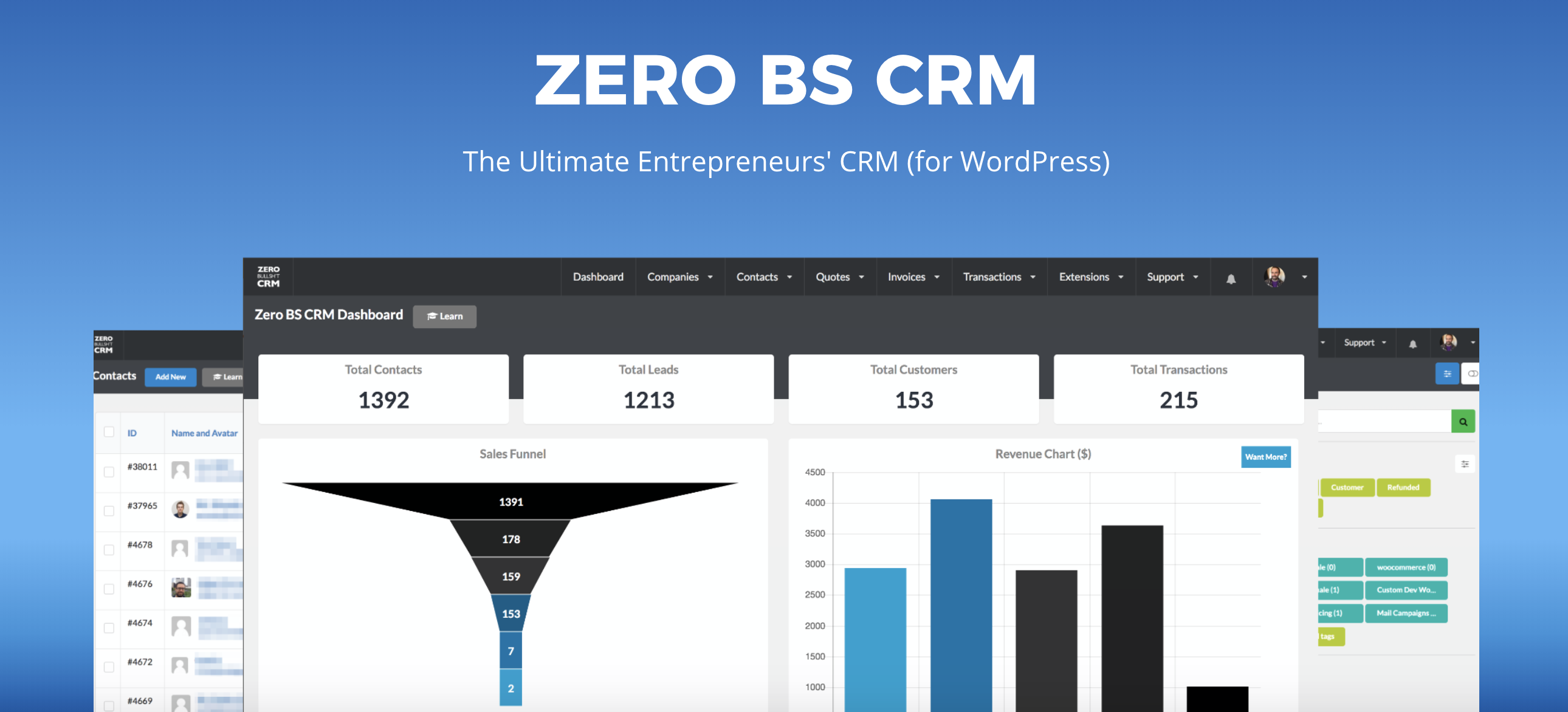 There's been an incredible amount of work gone into Zero BS CRM over the year and it shows from how much it's come on in both features, and design (our new user interface is due out in a matter of weeks), we've been covering these in our monthly Zero BS CRM Product Updates.
Growing a Plugin business
I strongly believe that to grow a WordPress plugin business you need to be a strong advocate of your product and spend the time it needs developing it, listening to feedback from customers and improving it (where requests are reasonable and in line with the general roadmap).
It's also super important to have a good process in place to capture your leads, and manage those leads through to customers, here's something brand new we're using at Zero BS CRM (if you didn't guess, it's part of ZBS CRM and coming soon to the Entrepreneur's bundle)

Every business really should use a CRM and now with the availability of Zero BS CRM it's easier than ever to manage your leads through to customers.
What's great about the above tool is I can define what steps I want to track in the funnel, and see how value moves down the funnel (i.e. have I been emailing a lead who has expressed interest in purchasing, then they're marked as "Emailed" and a value tracked for them).
Do video chats help convert? Again, a new initiative to test and manage through the above tool. It's new, it's useful and it runs right from your CRM data.
Yes that's right, we get about a 7% to 11% monthly conversion from our leads entering into our system. Which I think is pretty darn good for a WordPress plugin
The next step is to get more in at the start of the funnel as Leads (and push more through to customer through various "bottom of the funnel" optimisations) such as product demos, video chats, documentation and case studies.  That is, more people aware of Zero BS CRM and being interested in using it.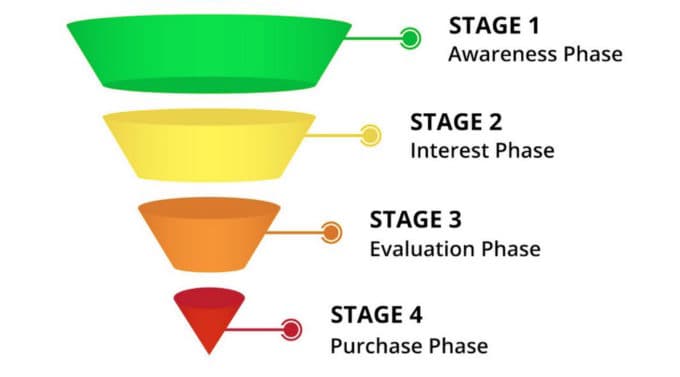 If you've not thought about using Zero BS CRM for your own business now is a great time to get on board (before any price increases when our new user interface version comes out – lock in to the price shown today, forever)
What's next for Zero BS CRM
It's cleat that Zero BS CRM is where my focus deserves to be, I'll be continuing to market the product as well as develop new features where it's good to do so. We've got such a good system now that it needs time promoting it and making sure that others can get the same benefits that we've been getting through using the CRM to sell our products (remember the 50%+ increase in revenue since last year?)
Epic Plugins and Themes
Of course I'm still standing behind all the plugins and themes available through Epic Plugins and Themes, but I'm having help in doing so. I've got a strong support team helping me with support, as well as development of features and bug fixes. It's great to be able to keep other areas of the business going while my main focus moves to a product which I feel really passionate about and personally use across my businesses to manage growth and customer relationships.
There's a lot of areas that I still feel I need to get better at in 2018, and I'll cover these below. I don't want this post to run into the many thousands of words but if you feel like you've been where I am, I'd love to hear from you in the comments.
Marketing and Inbound lead generation
I think a lot of people feel in the same boat here. I'm a member of a number of Facebook groups for a start, which talk about selling WordPress products, and I feel lucky that the products I do have sell at the levels they do. There's still room for improvement though and that's got to come down to marketing and inbound lead generation.
Here's the traffic charts for all three businesses over 2017.
All three show interesting things:-
Epic Plugins – From 1 August 2017 – I started a content marketing strategy for Epic Plugins. This was a pay $x per article for a bunch of keyword centric type posts. Traffic hasn't really up-ticked from this.
Epic Themes – a big uptick here, but only from including demo websites in the same analytics profile.
Zero BS CRM – this is gradually picking up, which is encouraging to see for a relatively new (launched our v1.0 in July 2016)
I've been reading plenty on this and 2018 will be a different stance for me when it comes to content for the sites and businesses I own. This will be in the form of a Founders Journey for WordPress products. It makes sense that this sits on our Zero BS CRM blog as this is a true product journey and these posts will be available throughout 2018.
It's content which I think is useful for others to read, as they run their businesses online. There's so much that we've been through in this past year alone that would be great to share in a number of posts.
What else happened in 2017?
I almost forgot this one, but I launched Growth. This is the story of going from a 9-5 to owner of two successful online businesses.
If you've not seen Growth yet, check it out. It was great to be able to publish an e-book in this area, and there's plenty more useful info where that came from.
Interviews, Interviews, Interviews.
OK, three of them, I was kindly interviewed by three websites about my story over 2017. These were:-
These have been good to get out there, if not resultant in people outreaching to me to pitch me their products (vultures, I tell you 🙂 but I can't blame them). I'm always open for being interviewed so if you'd like to feature me on your site or podcast do get in touch.
What's the plan for 2018?
More of the same, please. I'm in a good position where the revenues are enough that I can work from where I want and on things that I enjoy doing. The last thing I want is to be forced to stop doing this and go back to a 9-5.
But I feel I'm at a tipping point, the revenues aren't high enough to recruit more people, but they're good enough to keep on going with the products.
The next stage is I want to be able to grow the businesses even more, get revenues to a very healthy level and be able to be recruiting good people to the team and giving back to WordPress and the community. We started this to some extent in 2017 by sponsoring WordCamps, and that's something we intend to do more of in 2018, and definitely in 2019 (when we may do a WordCamp tour of the US) 🙂
Thanks for reading and I hope it's not been too much of a ramble. If there's anything in this post which helps you I'd love to know and if you'd like to talk anything over just leave your email and I'll reach out 🙂