Facebook certainly know how to get people sharing and there are now over two billion users to share with. Estimates of 300-350 million new photos being uploaded each day were bandied about several years ago. Photos, memes and other images are a huge part of the popularity of Facebook.
Images are the most uploaded and create the most interaction of all the various Facebook content types.
Consistently one of the most-visited websites in the world, Facebook can help users on your website too. By leveraging a platform they are used to and regard as a regular part of everyday life you can boost your own site.
How? If you want your audience to browse your galleries, share your images and interact with them then don't make them learn a new interface. They are already comfortable with the user experience on Facebook. So if you keep that experience the same your engagement will improve.
Except you don't have Facebook's staff and computing power behind you. It's okay – you can use WordPress to get Facebook style images. No coding required, just some straightforward easy to use plugins that you can activate and get started with straight away. They work with pretty much all themes out the box and will massively boost your images' social sharing.
You can nab some of Facebook's tricks and boost your site with these tips on how to get Facebook style images on WordPress.
How to get Facebook style images on WordPress: Social Gallery Pro Photo Viewer
Social Gallery is the ultimate WordPress lightbox plugin. It gives users that familiar Facebook feel – but without having to send your traffic away to Facebook. One plugin takes your photo gallery and turns it into a full Facebook style social experience.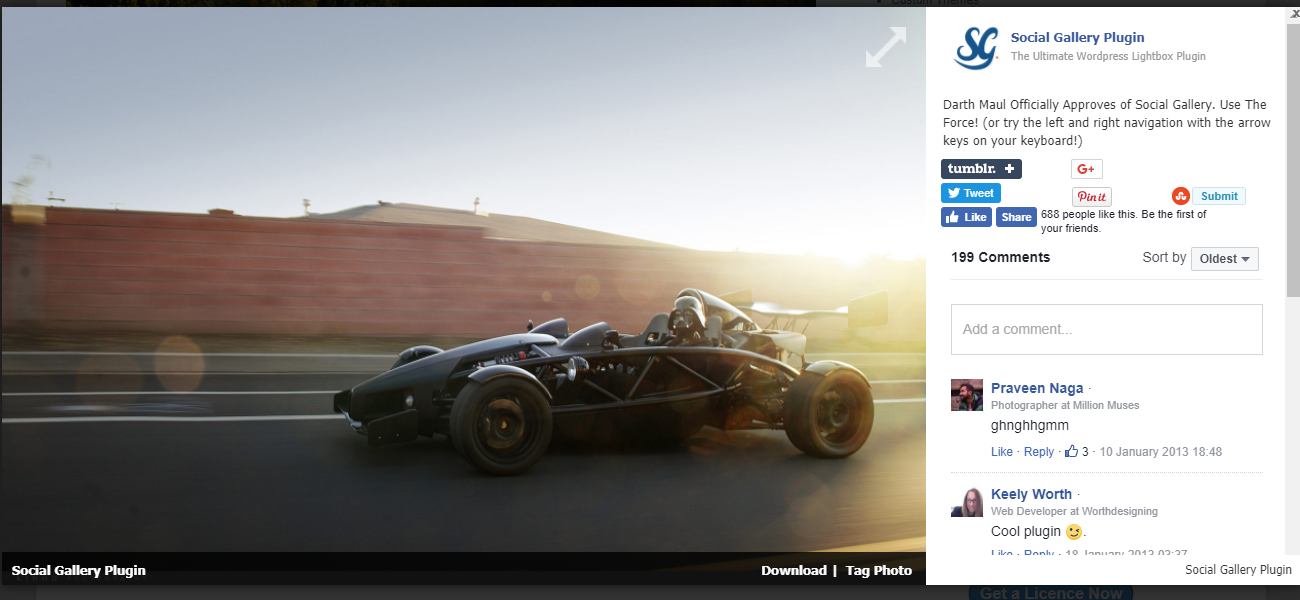 Your images and galleries look like Facebook galleries and are navigated just the same way – check out the demo. Comments and discussions take place just like on Facebook. And social share buttons for all the popular social networks means your visitors can like, share, comment and pin away – spreading your content all over the web.
Site visitors can even tag themselves and other users in the images – showing up on Facebook and driving traffic to your site. Viral image tagging has huge potential and isn't available in your standard gallery plugins, even premium ones.
Social Gallery is easy to install even on an already setup website. It works out the box with 99% of WordPress themes and can even work with custom themes. It works with other top WordPress gallery plugins like NextGen Gallery. Tweak your gallery to your heart's content with over 50 new customisable options. Or just fire it up and go with 11 preset modes.
How about Facebook style video on WordPress?
Video is big, and getting bigger. But most sites have a random scattering of videos, if that, with no branding consistency, easy way to share or engage with the content. Not with Social Gallery Video Viewer. Developed by the same Epic Plugins team, the video viewer takes all the tricks from Social Gallery and applies them to video.
Your site visitors can view videos, comment on them and read the discussion all on one screen and in a familiar Facebook format. Use YouTube or Vimeo videos or uploaded to WordPress and get a seamless, familiar experience for your viewers.
If video contains to grow like it is already it will be huge and everyone will be scrambling to catch up. There's no consistency in players and how they are displayed on your website. Then to comment on the video your audience needs to leave your site to go to YouTube or Vimeo, or scroll down the page to the comments section.
That's not good, but you might be tempted to think it's how things are unless you are hiring a developer to work on a video player from scratch with all the time and expense that entails. No.
Instead you can use Social Gallery Video Viewer for consistent branding and real engagement and community in the comments right there on the video. Plus they can like, share and pin it right then and there without having to leave your site.
What about viewing on mobile?
Get Facebook style images on mobile too, with the Social Gallery Mobile Add On. It's built from the ground up for mobile and gives a simplified but powerful experience for mobile viewers.
Huge numbers of people – and getting huger – use Facebook on their phone mostly via the app. They are used to a great gallery experience even on smaller screens. They want to have that experience everywhere, on every site they visit.
No need for any coding, extra effort or big expense, to get mobile optimized, responsive, Facebook style lightbox galleries and images on mobile. Just add the Social Gallery Mobile Add On to your Social Gallery and Social Gallery Video Viewer plugins. Your site can boast the ultimate in social lightbox galleries with visitors sharing your content no matter what device they are using.
Want even more control over your images?
Social Gallery [shortcodes] gives you the ultimate control over how your images are displayed, to craft stunning gallery layouts and boost social sharing – all with a few shortcodes.
This Social Gallery extension brings your galleries to life. Set images to grayscale and then full colour when hovered over to really pop. Users can save their favourite images that they can then view on another page. Add a signup form to enable favourites and see your signups increase.
Viewers can hover over the image for live social stats, title, favourites button and more. Then they can click the like or comment buttons and share or comment right there on the image.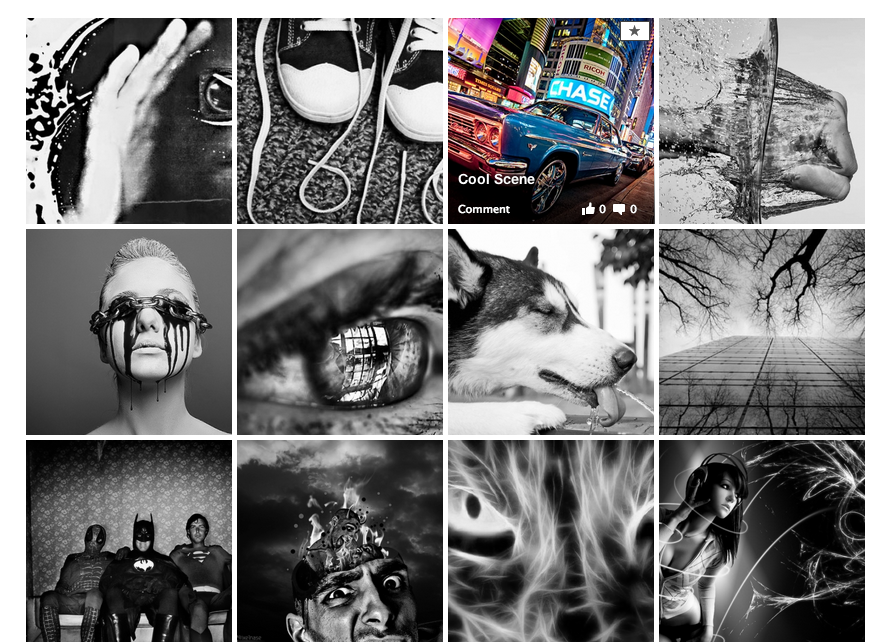 It makes complete control so easy. Just a matter of adding a few shortcodes, not hours of frustration fussing with individual images or layouts. Works with big gallery plugins like NextGen, and WordPress' own media library. You need the Social Gallery plugin and the shortcodes give your gallery a whole new level of customisation and interest.
How do you know if your Facebook style images are increasing traffic and engagement?
Enter Social Gallery Analytics. Easily and quickly work out which are your most popular images, which are lighting up the discussions, which are getting most shares. So you can do more of what works.
When you add Social Gallery Analytics to Social Gallery you get powerful stats that help you track your efforts. See what your visitors like most and follow the clues they leave in the analytics. Stay on top of trends and what is hot. Give the people what they want.
In return you will skyrocket our engagement, shares and website traffic. And you can keep track of it all with your advanced analytics.
Facebook style sharing isn't just for images
Images probably aren't the only part of your website. To ignite the rest of your content there's Social Buzz. Social Buzz is the top way to get more social shares on all your posts and pages.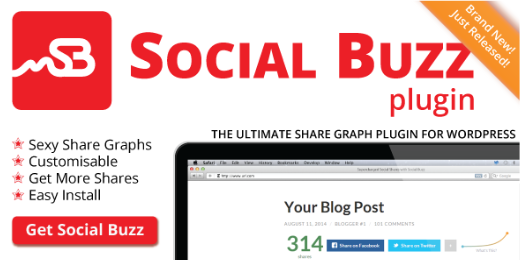 It's not just about pretty buttons to share with – Social Buzz adds a shares graph so visitors can see the popularity of posts for themselves. The plugin starts recording shares the moment you add it and within hours you will be able to see those shares in the graph on each post. It's fantastic social proof for your visitors to show them they need to hop onto this content while it is hot.
With three different style settings and ready to go out the box in 99% of themes it's a great buzz-worthy addition to your site.
Ready to get Facebook style images on WordPress?
It couldn't be simpler.
Harness your visitors' comfort zone for interacting with images. Match your site to the way they do on Facebook and watch likes, shares and engagement increase.
You can have all these plugins to get Facebook style images on WordPress in one simple subscription from Epic Plugins. Access the full bundle of Epic Plugins including many we haven't had the chance to talk about here – including fantastically engaging polling, voting and quiz plugins.
Once you have the plugins, just upload to WordPress and activate. All the Social Gallery plugins work with the vast majority of themes out the box and they are simple to set up.
You can tweak and customise as much as you like. There are hundreds of options to match your site perfectly, add your branding and control every last detail.
Or you can use the standard settings and presets for a no-fuss, immediate start.
Either way you will get Facebook style images – on WordPress – in just minutes. Massively boost your shares and engagement with all the social network giant's tricks. Give your site visitors an experience they are used to and already know how to use. So they can navigate galleries, like and share pictures and leave comments just as they do on Facebook.
For more WordPress tutorials to bring your site to life make sure to enter your email in the box below.