Description
Facebook Questions is great. You can easily setup and ask your Facebook Page but doing this on your website isn't possible. Until now.  Using this plugin you can
Ask as many polls as you like to your visitors
Gather Facebook IDs on those who have voted
Get Social Proof that your voters are real people
The Social Polling Plugin is an add-on extension for the Easy Polling Plugin. Social Polling allows you to setup your polls to utilise the Facebook API.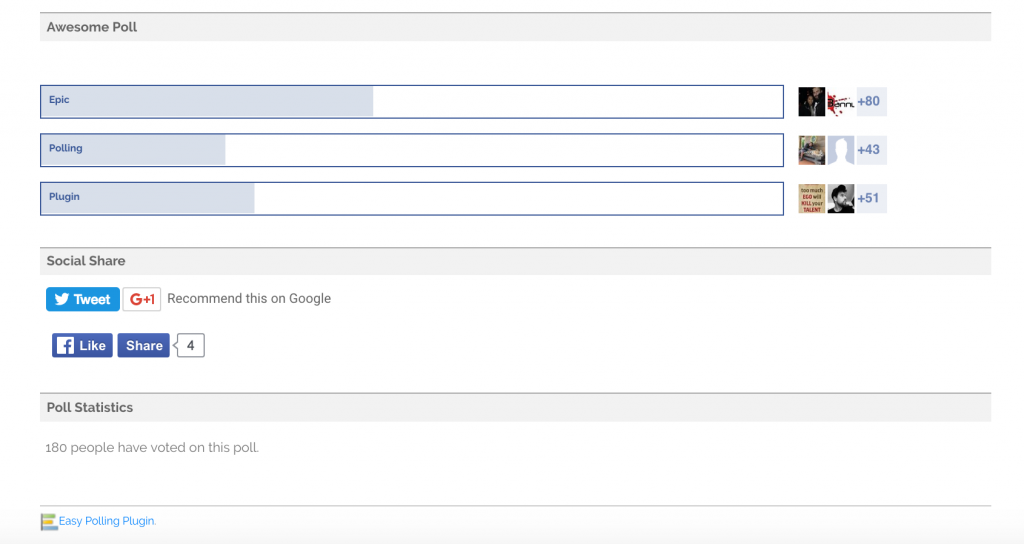 This gives a great way to boost likes and shares. Just look how many shares this post has had (which is running the poll).
Easy to setup a Poll and run from your site
When adding your new Poll you can add your Options (and add more options) and then choose the type of Poll. This extension adds the 'Facebook' option which turns your poll into a Facebook Questions style poll as shown above. It also allows people to vote using their Facebook profiles which adds credibility to your poll that real people have voted.

Important – Add On
This plugin is an add on for the Easy Polling Plugin.  Purchase that here.
Plugin Features
Extension to the Easy Polling Plugin
Facebook style polls
Vote using Facebook ID
Polls embedded via a shortcode
Infinite polls available to be added
Poll statistics such as who posted the poll
Poll statistics – number of voters