Description
Do you want to have reddit type up/down voting on your website? Look no further. The WPeddit plugin is a plugin for any WordPress Theme that adds up and down voting arrows to your post content.  The main benefits for using the WPeddit plugin are
Increased website user engagement. Keep your visitors coming back
Reduced website bounce rates – your best content displayed first
Increase the engagement with commenting on articles. A good comment shown first might prompt someone to reply
Reward your website members for voting through the myCred integration
Add a voting area to your WordPress content

See that cool 1204 with an up or down arrow. This plugin adds that functionality to your website. Sounds simple huh?
Posts ranked by the reddit algorithm
If you have a post ranking solution that ranks your posts purely by the most upvotes then the oldest content will always be at the top (it's had the longest time to gather votes after all). With the WPeddit plugin the ordering is ranked based on the following factors:-
The number of up votes
The number of down votes (a post with 100 up and 99 down would rank higher than a post with 1 up and 0 down votes)
The time since the post was submitted (newer posts with 10 ups are ranked higher than a really old post with 100 up votes)
It's a great way of keeping your best content at the top of your website and gives new posts the chance to rise up the rankings.
Rank WordPress comments too
Ranking posts is great. Ranking comments is even better. You want to be able to see which comment is the most popular. The image below shows how comment ranking looks

So with both comment ranking and post ranking you can give your website visitors great ways to engage with your website.
Reward your website members for voting
You can reward your website members for voting on content by using the myCred 'Points for voting' which comes with WPeddit. To do this you need the myCred plugin installed and setup to grant your users points.
Once you're up and running with myCred – drag the 'Points for voting' hook into the Active Hooks and everytime a user votes they'll be given Credits.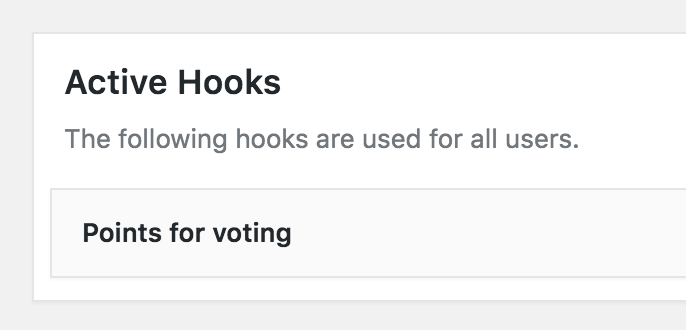 Plugin Features
Up / Down voting for your WordPress content
Arrows and score added via the_content filter
Optionally re-order your blog to have the highest ranked first (read how)
Add up/down voting to your WordPress comments
Show your hottest posts (highest ranked) in a sidebar widget
Display your hottest comments (highest ranked) in a sidebar widget
Lock votes either by member ID or by user IP
Reward members for voting by giving them credits (requires myCred)