It's that time of month again. Time to go through the transparency report covering the income reports as well as giving an overview of what's been happening with Epic Plugins and Epic Themes. The title of this months report is 'Living in Thailand'…
This is because, since the 10th of Jan, I've been over in Thailand on a travel holiday, while on this holiday I've continued to manage the businesses (Epic Plugins and Epic Themes).
What happened in January?
Before getting onto the detail of the numbers, I wanted to do a high level overview of what happened in January. In January I:-
Financials for January
You may recall from past transparency reports (read them here) that I've sometimes included the charts from the Sales Dashboard on Zero BS CRM, and sometimes not. You'll also notice that sometimes I've included Freelance work, and sometimes not.
What I've decided to do going forwards is include everything but spend a little bit of a section on each. The freelance work, which is 'swap time for work' comes from Leads from selling Epic Plugins and Epic Themes – so it's an added benefit of growing the Plugin and Theme business so it feels like I should include it in these reports.
I've recently done some additional feature builds onto the Sales Dashboard which let's me tag transactions and filter down the revenues by the tag I give them. This has allowed me to split the income into the components below.
I've also built a very early version of a Stripe Sync tool to allow me to import transactions and customers from Stripe (as a big chunk of sales are now coming through Stripe (for various reasons which I'll write about in another post).
Epic Plugins (including Zero BS CRM)
First up, is income from WordPress plugins. This includes direct sales and the commissions from sales on CodeCanyon. The CodeCanyon income is received on the 15th of the month, which is why the chart jumps up part way through. Keep an eye on these in the coming months.

The charts also include income from Zero BS CRM – which I could split out into it's own charts but since we are still working away at getting this to it's 'MVP release'. I'm keeping them wrapped into the figures above.
p.s. this is the first month with the 'tagging' ability in the charts, so this month will show a 'vs $0' and a +0% in the charts. 
Epic Themes
Epic Themes is where I've spending more time looking to grow the business and increase it's traffic and it's discoverability. I'm working through the '12 in 12′ project which is a challenge for me to release 12 new products onto the website in 12 months (so far I've released 3).

Theme sales were quite a bit lower in January than they were in Dec (through looking at the WooCommerce report). December was $2,160.  The start of January was a lot slower than usual (putting the lower activity down to New Year etc). It'll be interesting to see where it goes from here.
In prior reports I was actually missing out the commissions from CodeCanyon (shown above), and I'll be updating the CRM system to capture these again through the month from the API.
You may also be wondering why this is showing the same figure for 'Gross and Net' sales (i.e. no fees) when Stripe does take fees and there has been some Coupons used. It's due to the fact the Stripe importer is still in development so just bringing in total sales values for now.
Freelance
I'm still spending quite a bit of my time on Freelance for existing projects before I committed to saying No to Freelance. As the other charts, this one will be particularly volatile as I do more (or less) freelance in a month.

Another note about the Freelance figures in this report, some of these are 'pre-funding' for time I'll actually spend in February but it's cleaner to account for these when the income has been received.
p.s. this is the first month with the 'tagging' ability in the charts, so this month will show a 'vs $0' and a +0% in the charts. 
Overall
I thought it would be quite nice to see an 'Overall' picture now I've got the 'tagging and filtering' ability added to the Sales Dashboard. So here it is, the overall picture for January 2017.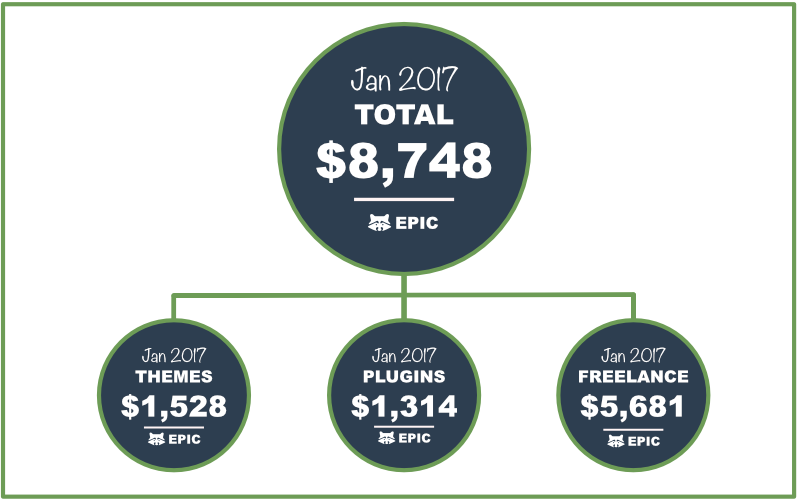 Freelance is higher than I'd like it to be and theme sales are lower than I'd like. So for February I'm taking on some new actions and metrics that I can track and report. The first one is looking at the ahrefs and the similar web traffic reports for both Epic Plugins and Epic Themes. I also want to share the 'Similar Web' for each as I find this a nice chart showing traffic and rankings.
Now, Epic Themes is a site I only recently started to focus on, so as the months go by I expect this to pick up as I progress through the 12-in-12.
Traffic reports
I wanted to include these so I can how I'm going about growing the traffic to the websites. I like how Similar Web displays the traffic and can be verified against Google Analytics.
Epic Plugins
Here's the graph for Epic Plugins. I'm liking the trend here (of course) however when I look at other sites out there it's really amazing how much more traffic they get (a popular plugin website which I won't name gets 100k visits a month). Clearly there's work I need to do here on inbound traffic generation.

p.s. the charts are lagged on Similar web, but tracking this will give a good measure of whether my efforts are increasing traffic.
The 'Ahrefs Rank' chart is more up to date than similar web and I like again how the trend is going.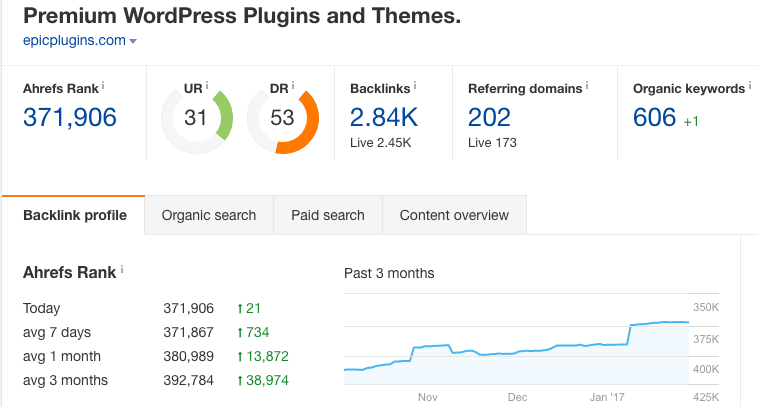 Epic Themes
Now, onto Epic Theme's traffic. Same two services for the graphs as above. As you can see from below, it's a lot 'newer' than Epic Plugins and I've only recently been focussing on growing it (the 12 WordPress Themes in 12 Months project kicked off in October).

And the Ahrefs screenshot for Epic Themes, since starting back in October the Ahrefs rank for Epic Themes was around 30m.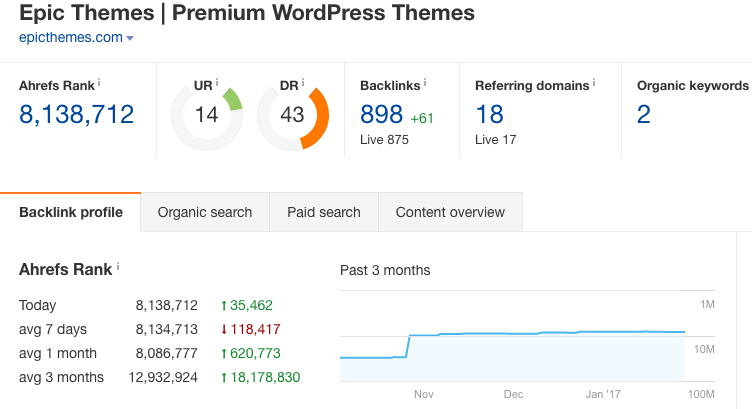 What's the focus for February
In February, I'm going to focus more on growing the traffic to the websites and adding more to the blog of Epic Themes. It's a commitment which will take time to grow but I'm hoping by the end of 2017 that the revenue numbers and traffic reports reflect the effort that is going into both businesses. The areas that I'll be focussing on specifically are:-
Blogging more over at Epic Themes
Blogging more here (an ongoing commitment)
Taking some time to understand the 'customers' of both sites

I suspect this will be a number of different 'types' of customer
… but I need your help, I'll be creating a short survey which will help me understand your needs better (keep an eye on your inbox for this)

Reaching out to more partners from OutreachList WP to generate inbound links
Continue to grow the email list
Improve the 'post sale' account pages and 'post order' email sequences

There's currently two tabs for 'downloads' for example – which is confusing
And also continue to promote 'upsells' to the products (for example the Plugin Hunt Theme add ons)

I also plan to experiment more with Paid traffic (CPC) sources and measure the conversions

In January I experimented with Facebook Ads (again, I'll be posting about this soon)
To keep up to date with my progress, sign up to the email list below. It's where I send special offers and round ups of what's been happening in both businesses.
I'd also love it if you shared your comments on these reports (and shared the reports themselves).
Until next time.