OK. Disclaimer. I found some pretty good developers from this process. BUT it took me longer than it should have.
You may have read in the latest transparency report that I was on the look out for WordPress Developers to join my web agency.

This was because I continue to get Freelance requests in and I've started to say NO to taking on more freelance.
I wanted to scale up my business. My transparency reports have been running since April 2016. I'll be writing my 8th at the start of December. I'm trying to run before I can walk. If I take on too much too soon my business will feel the strain and there'll be more strain on my time.
So. I decided that I'm not going to spend any more time trying to recruit someone new. Instead I'll be focusing on a new challenge. This will take up a lot of my time and I won't have the time to spend looking for a WordPress Developer to join the team.
Want to know what the challenge is – click here to find out
That doesn't mean I don't want to share the process I went through. It doesn't mean I want you to waste the same time that I did when trying to find a developer. So I'm writing this post.
What was I looking for in a Developer
First up, I wanted a WORDPRESS developer. Someone who knows WordPress. This means someone who has:-
Experience with the codex
Has built plugins or themes in the past
Knows their way around the WordPress admin
Knows how to add new areas and hook into the right places
I thought great. Where's best to find a WordPress Developer?  I know. I'll post a job up on jobs.wordpress.net. So I did. I created a job. I submitted it. I waited.
I also want to say at this point that I wanted to find someone who was willing to join the team. Not on a full time basis yet. But for maybe 10 hours a week to start. Then as things scaled this would increase. I was also flexible in the whereabouts of the developer. I was happy with them being 'remote' and away from Manchester, UK. I don't have a City Centre office. I don't want someone sitting in the apartment with me. So remote is good.
This wasn't a 'project' this wasn't a 'task'..  it was to join the team.
The Job got approved on WordPress.net
Awesome. It turns out that the jobs.wordpress.net is scraped by a number of job boards out there which ended up putting the WordPress Developer job in front of a lot more people than I expected. This wasn't a good thing.
I used the keyword remote – this opened up the flood gates for all of the far east to contact me. While I have nothing against the developers working from cheaper to live countries, a large contingent claimed to 'fully understand the brief of my project' sending me a 'boilerplate' email. An email which they copy and paste to all the jobs (c'mon – this does not work guys).
Not to mention the follow ups. I received daily 'follow ups' to check if I had read their email…  give over.
Even though I meant remote and was happy with a remote worker. I didn't mean complete opposite ends of the World, with communication barriers and huge time differences.
They are not what I would call 'WordPress Developers'. It doesn't end there. They ranged far and wide in skill set and expertise. I got applicants who could help me build my app. I got applicants who could review my website for SEO…  man.. I got it all. Did I mention that I was looking for a WordPress Developer to join the team? Yeah. I told them that too.  Didn't stop them.
I even got hunted down and stalked on LinkedIn for work. I didn't share my linked in so Kudos goes to that person who found me on linked in. Check out the beauty of the message below (anonymised to protect the no-so-innocent)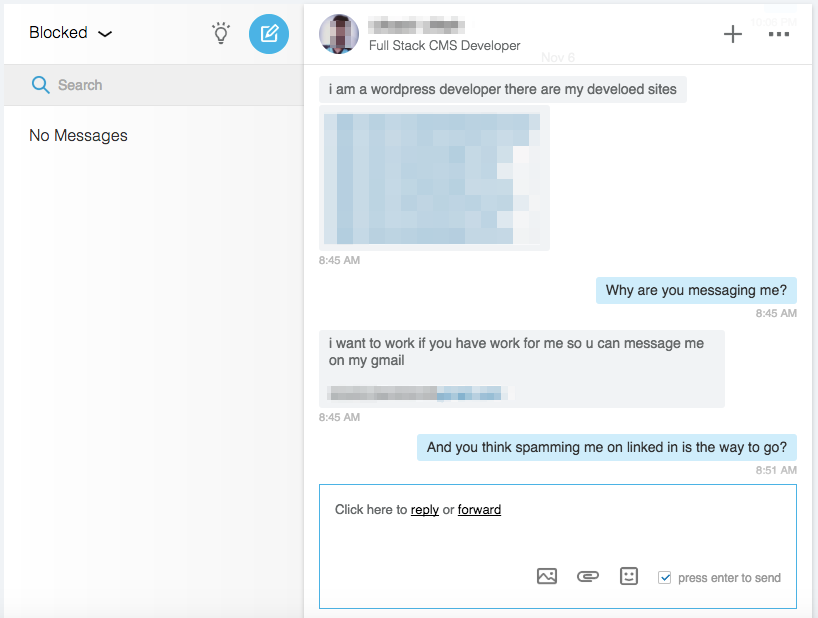 Lessons learnt
The first thing is to be super clear in the job description. While I wanted a WordPress Developer what I actually got was a lot of developers who can use WordPress' admin. For WordPress Development it's not necessarily required to fully understand the codex. A good PHP developer can pick up the codex quite easily.
There's also a lot more job boards out there to try. A good summary article on all the job boards and tips on hiring a good WordPress Developer is here.
If you're UK based then People Per Hour is also a good place to look.
So, what's happening with recruitment
For now nothing. I still have the details of the couple of gems I found amongst all the rocks. When I'm ready to expand the team further I'll be in touch. Hopefully they'll still be interested in working with Epic Plugins (and Epic Themes) but for now I'm focussing on growing this myself.
When I hit a certain metric per month in $ revenue I'll revisit the decision again 🙂 to find out what that target is, make sure you sign up to follow along with my story and how I'm growing Epic Plugins to be a great business offering cool products.