It's now 17 months since I removed my plugins for sale on CodeCanyon, it feels like a good time for an update today, but why today.
Well, apart from having some time to write this post, it's also the last weekend before annual renewals start to trigger – which would mean any comparison would be swayed away by renewal income coming in (and that is worthy of a post in it's own right!)
When I removed my plugins for sale on CodeCanyon, this was following a general demise in sales. The chart below shows plugin revenue back to 2012, and up to the point where I removed the plugins (May 2016)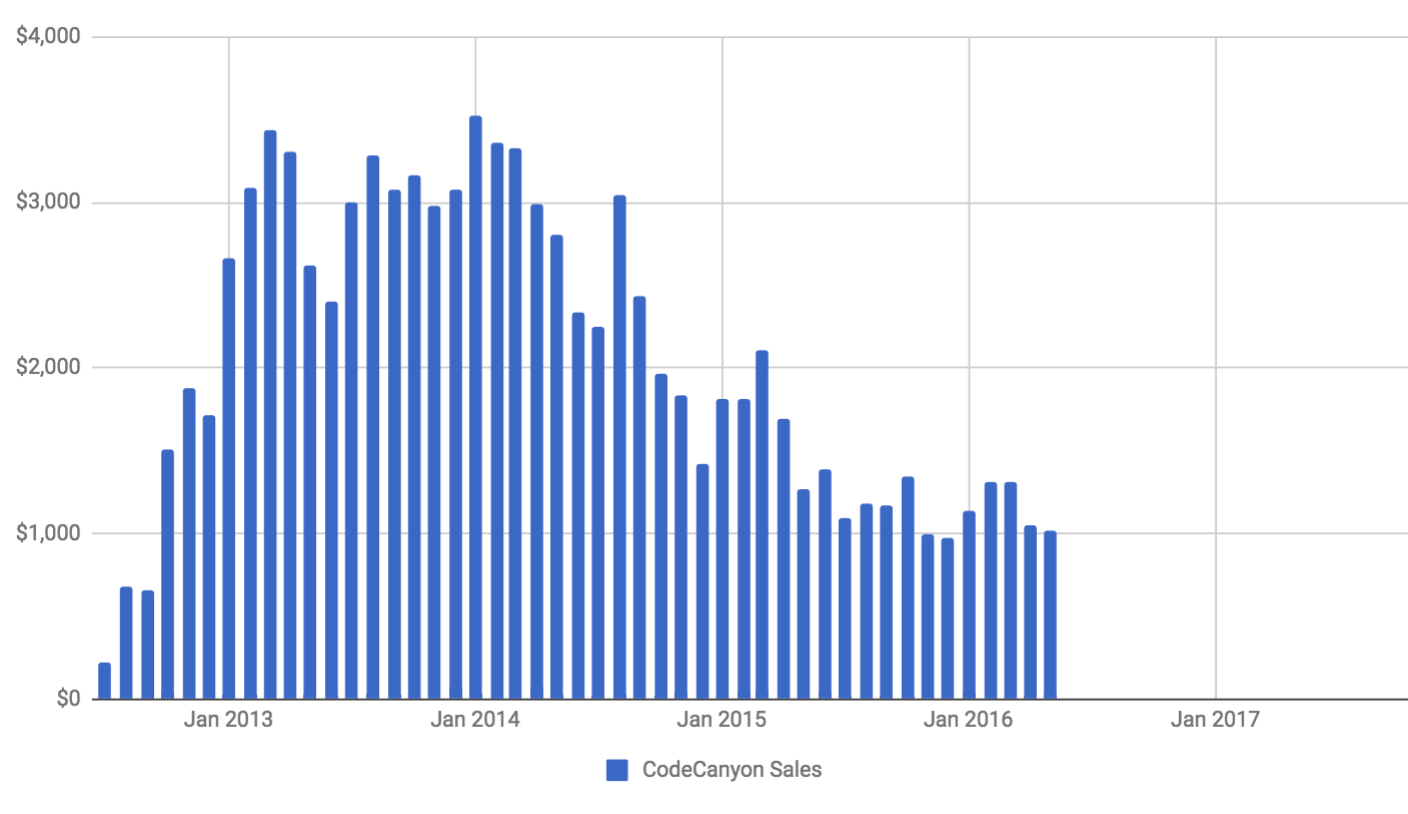 A definite trend, and one which a lot of other CodeCanyon Authors had been seeing. Since January 2015 I've always sold some plugins direct which aren't on CodeCanyon so the chart below I've added in the plugin sales direct. I've also extended the CodeCanyon Sales (blue) up to the end of October 2017.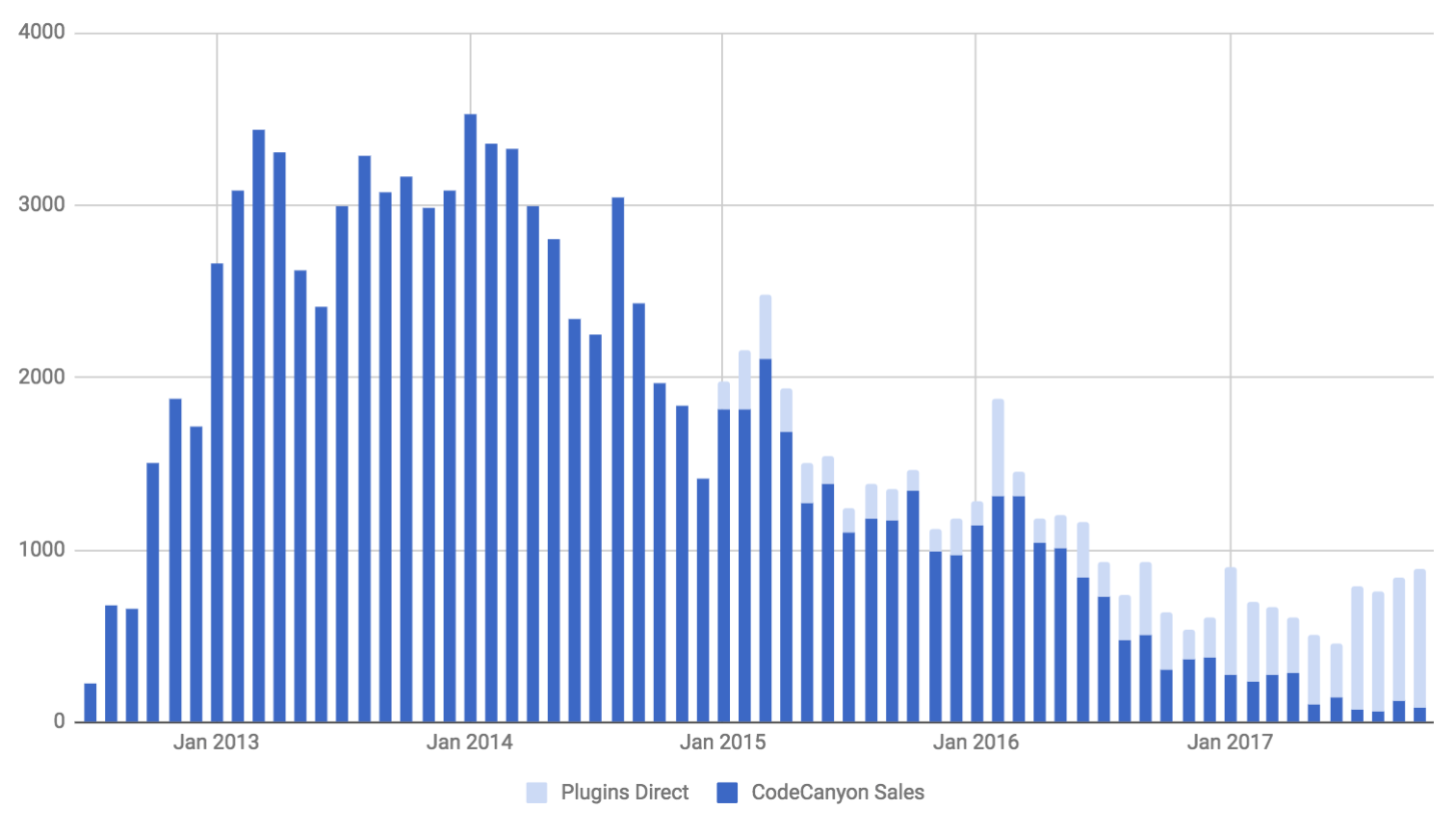 There's no hiding the big trend downwards in the CodeCanyon sales, but now with selling plugins direct the trend is starting to pick up again towards c$1k per month in plugin sales.
What happened in the 17 months
The first thing is that CodeCanyon sales continued to fall. In November I went non-exclusive with my final CodeCanyon account, and it's now doing around $100 a month. I'm not alone in these types of revenue falls from CodeCanyon. Going direct was scary, but it's been worthwhile so far.
There's been some other "key events" in the period:-
I've launched a new plugin – WooCommerce My Account which is doing quite well
I've not been actively releasing anything on CodeCanyon (which might have stopped the fall a little)
The best part is any sales which are direct now have the potential to renew a year after purchase. How this impacts the chart, well that's for another update.
Trying other platforms
While CodeCanyon was good for me initially in 2012 and 2013, it's been poor since. I think that's true for selling via any marketplace. Selling direct gives you that added feeling of pride. You directly control things, but also, you directly control things.  Marketing your plugin is a big one if you have plugins to sell.
I briefly tried Freemius for Social Gallery Pro, while this looks a promising solution for plugin sellers, I'm too long in the tooth and have all my own systems setup to really benefit from their offerings.  I'll be covering my fuller feedback on Freemius in another blog post in a few weeks time.
Zero BS CRM
It's safe to say that you've probably come across Zero BS CRM by now if you're a regular reader of this blog. It's where the majority of my focus has been this past year. I've still produced various updates for the plugins on this site but what's not shown in the chart above is the impact of Zero BS CRM on the grand scheme of things.
This is a product which is co-developed and co-founded. It's the equivalent of launching new plugins but under a completely separate platform.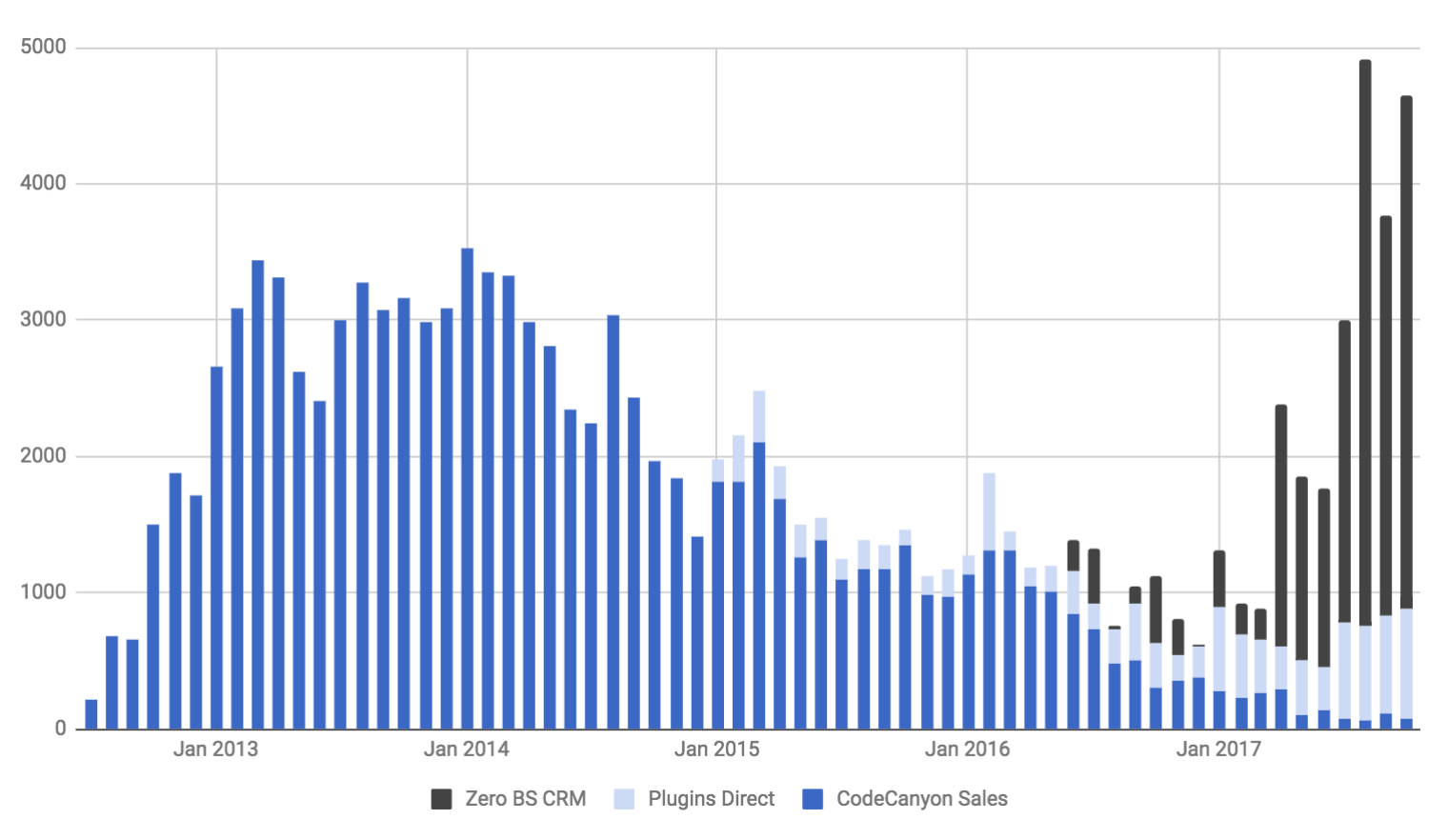 Assuming we can maintain the popularity of Zero BS CRM going forwards the plugin sales are now in a better position than when we removed them from CodeCanyon.
Rather than release a product on CodeCanyon, we went direct and we built a suite of supporting products for our CRM offering (which is free on WordPress.org).  You can download Zero BS CRM for free here.
What caused our jump for ZBS?
This is a hard one to attribute to any one thing. The first step up was in April 2017 when we:
Increased the number of extensions up from 5 to 15
Re-wrote our main homepage and sales offer
Targeted "Entrepreneur's" in our marketing
Reached out to industry blogs for reviews of the system (read our reviews here)
We reached out using the Outreach List WP
Since April, we've continued to develop the core and scope and develop new extensions as well as start attending and sponsoring WordCamps.
It's a really hard one to measure, and the same may not work for your own business. The main thing that I think has helped with Zero BS CRM is that it's a really cool product.
Having a good product really does help to market itself, as it validates itself in the market the main thing we've done is listen to users feedback and continue to develop the product.
It's never been an overnight success and we've both spent many hours developing, marketing and strategising the next steps for the offering.