So, yet another month rockets by in what feels like the blink of an eye. This is different through. I sit here writing this transparency report on the first Monday after quitting my job.
Friday just gone was my last day. Shit just got real (pardon my french). These transparency reports are my way of keeping track of what's gone on over the past month and importantly how the numbers have been.
This is the 4th transparency report, you can read the other reports here.
so, onto the numbers. Below is my screenshot from the Sales Dashboard extension (I use Zero BS CRM) to keep track and enable me to create these transparency reports a lot easier than they otherwise would be.
[UPDATE: 1st Feb 2017. The Sales Dashboard in Zero BS CRM has been improved to have transaction tagging. This means I can filter transactions. The featured image shows the position allowing for full splitting]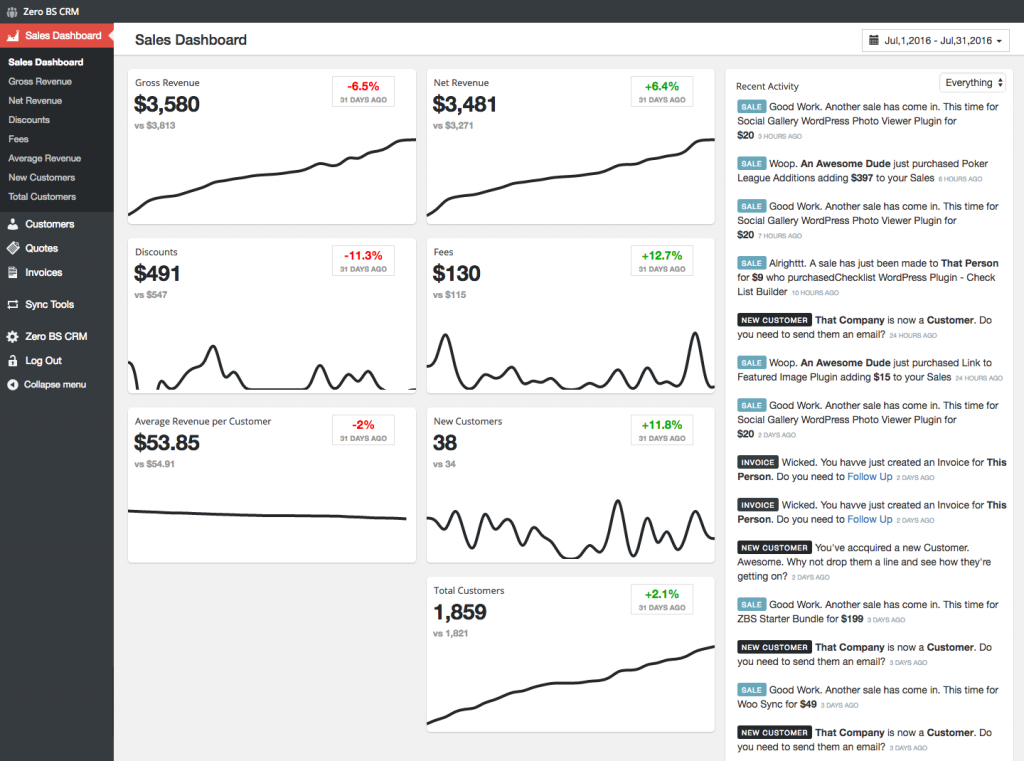 Quickly cantering through each of the tiles:-
Gross Revenue is down 6.5% compared to June
Net Revenue is up 6.4% compared to June
The Net Revenue being up is due to less discounts than in June (even though higher fees). Either way the net revenue in (before paying any business expenses, like support team costs / domains and hosting etc), is around $3,500 in July. I'm more than happy with that.
It's where I was expecting the month to end up. July is generally when everyone is away on summer holidays (including myself) so there's less product development and less purchases going on in general.
Still, that aside I managed to add 38 new customers to the business keeping the business total customer growth steady at around 2% a month.
So, what happened in July.
July was a really fun and interesting month for me and Epic Plugins.
We launched Zero BS CRM
On the 5th July 2016 I launched a joint venture plugin with Woody (@woodyhayday) which is a project born out of two different desires:-
I wanted to firm up my tools for being able to track and report my business progress
Woody wanted to develop a CRM system to help with a family business and give them the tools to track and manage customers without the need to pay monthly for a load of features not needed
So out of this, Zero BS CRM was born. It's a FREE WordPress Plugin which transforms a WordPress installation into a super useful CRM. It's just getting started too. There's a number of premium extensions available to purchase but the core product keeps getting better and better as we receive feedback from the masses (ok, from the c500 people who have downloaded it so far).
Have you checked out ZBS CRM yet? What are your thoughts? We'd love to hear your feedback, just let us know in the comments.
I've started updating the store
This is very hot off the press. Since working through the Zero BS CRM release I happened across a new partnership (I found a local designer) who has been great in helping me give the site a consistent feel when it comes to the products (no more scruntched screenshots in a macbook air)..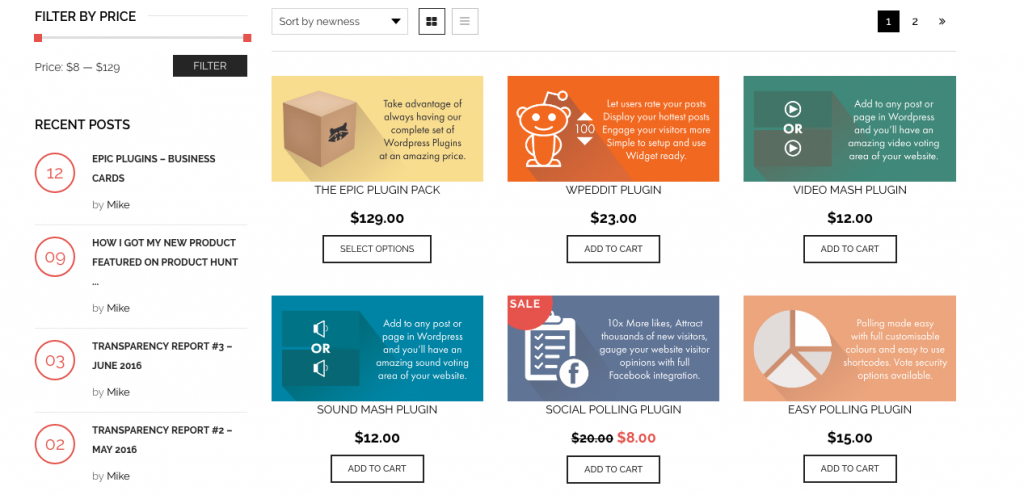 You can head over the the store here and view the new design for the product tiles. But that's not all. I'm still working on the actual product page designs and converting the individual product page designs into page templates ready for the next step in the product refinement.
Improving the sales pages. At the moment the pages are the standard theme templates but they're not great for digital products. So these are going to be improved in the very near future. So watch out on the blog for updates of when these are updated.
I've also got a new design ready for the Newsletter Page (did you know we had a newsletter page?)..  we do, but I don't send much traffic to it. I want to build a solution here that lets me have different pages for different types of offer. It's quite hard with the current tools available so watch this space again for more announcements on what I'll be building in that area.
What about the team?
I wanted to touch on this in transparency reports. As you know this is mostly an army of 1 with myself (Mike) doing the development, blogging etc. I am assisted on the support side of things by James (Currently about a 4:1 ratio – check out the live stats here).

I'll be looking at writing a blog post interviewing James and also over the coming months hope to be able to expand the team (when certain targets are hit).