Description
Do you want to find out which photo is the most popular? The photo mash plugin lets you host an interactive rating game area of your website. Using this area of the website your visitors can
Vote which photo is their favourite from A vs B (randomly picked)
Comment on the photos which is then attached to that photo
Display a 'top 10' photos. These are ranked using the Facemash 'Elo Algorithm'
Elo Algorithm is a great way to rank photos. If 10th beats the current 1st place it gets more points than if 10th beats the current 9th place.
Through using this plugin you'll benefit from
Finding out from your visitors which photos they like the best
Be able to then post more of the same types of content
Get loads more page views as people vote, and vote, and vote.
Give a up to date 'top 10' of the best photos on your site
Increase user engagement and time spent on your site
The Pics Mash Plugin

To add photos you just create a new Photo Mash and add your image. The photo is then automatically added to the rating game 🙂 It shows great stats for each photo
Rating – 1,400 for new photos – ranking up based on which other photo they beat (uses Elo Algorithm)
Wins: how many times it's beaten another photo
Losses: how many times another photo has beaten it
Click vote then loads in the next two photos (and registers another page view to your website). This is a great way to boost engagement and page views.
Top rated photos
With a simple shortcode on a page of your choice you can display the top 10 photos from the results of your photo mash. This page is a great page to see which photo tops the list.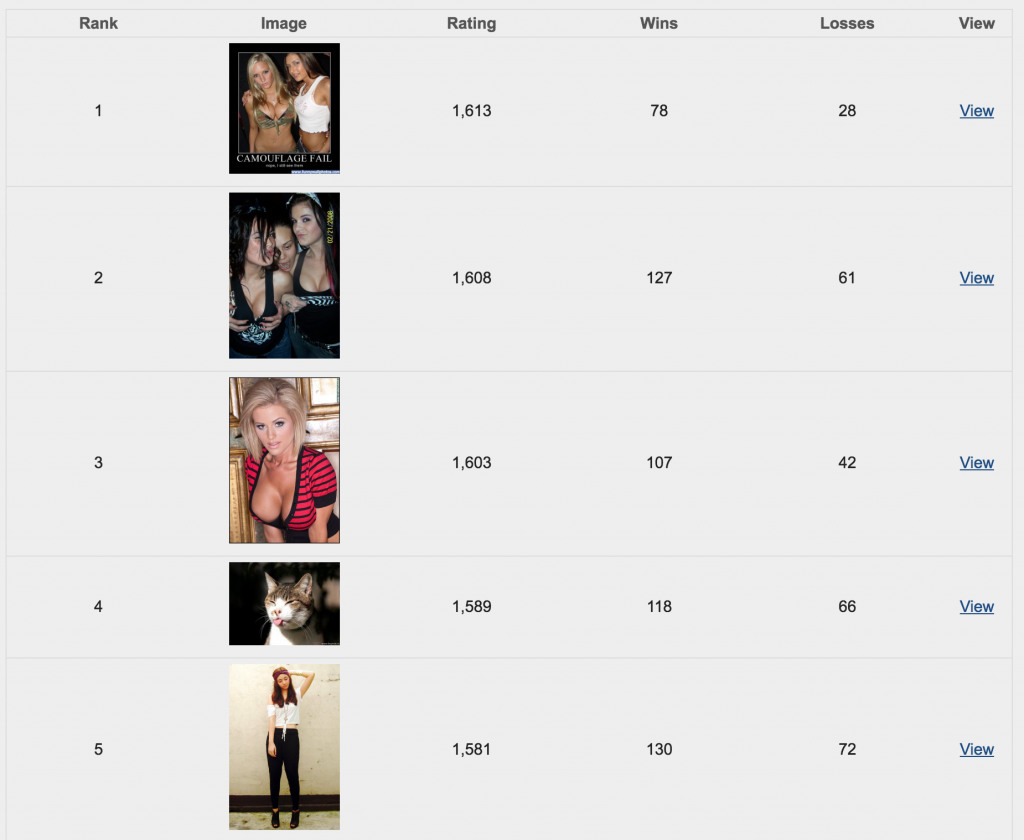 No surprises the girls make it to the top 🙂 why not use this plugin to create a site just like FaceMash – this is what Mark Zuckerberg setup before Facebook. Rating which student face shot was the most attractive. This is a great way to get a lot of page views (but not the most ethical way). You can use the plugin to rate things like
Best looking motors
Best football team shirt (each season)
Best faces (why not!)
Best beer!
+many more
Facebook Comments
Each photo has a Facebook Comment embed and it's own URL for sharing. This gives you more website traffic to your site from the Social Aspects of the plugin. More visitors = more votes which means a more accurate view of which photo is the best.
Monetise your website
You can even place adverts on some of the pages from the plugin which will increase your CPM rates and earn you more passive income from your site.
Plugin Features
Rate photos and find out which is the best
Facebook comments on each photo
Custom Post Type – each photo in the 'photomash' has its own unique URL
Sharing ability of each photo via the unique URL brings more visitors back to your site from Facebook and other social networks
Top 10 shortcode to display your best photos
Shortcode (on any page) to display the photo mash game
Shortcode options (such as category) to run category specific photo mash games (e.g. football teams, or best goals)