We are social animals. Humans take cues from each other, look to each other for ideas and recommendations and co-operate. Even though the internet sometimes gets separated from "real life" all those facts still hold true. And we can use them online with powerful effect.
The web is defined by social networking. It was around before Facebook but since then has just launched social media into the stratosphere. The vast expanse of the world wide web is made real with social networking.
We can use this on our websites and businesses online. A powerful psychological and webmaster tool is social proof. It influences our behaviour in ways that psychologists are still struggling to understand, and not always in logical or rational ways.
Seeing that other people like a certain article and idea, or that our friends like a certain restaurant or band, that people bought what we bought and then bought something else, drives recommendation engines and whole industries of social media and user generated content.
That's why celebrities endorse products, websites tell us which of our friends liked their articles and films show their reviews on the posters.
The message is that you need to be using this on your website. So here are some easy ways to show your social shares with WordPress plugins.
How to use WordPress plugins to show social shares with Social Gallery
If your website visitors can see that a bunch of other people – maybe even people they know – liked and shared your content they are much more likely to do so. There's benefit to being the first, but no-one wants to get it wrong.
We've covered how to get Facebook style images in WordPress but this isn't about the look as much as it is about the Facebook functionality.
Social Gallery is a collection of plugins that take your images and galleries and give them fantastic social abilities.
Social Gallery Pro is the main plugin that not only makes your galleries and images look like Facebook's own, familiar and easy to navigate, but adds powerful social sharing features.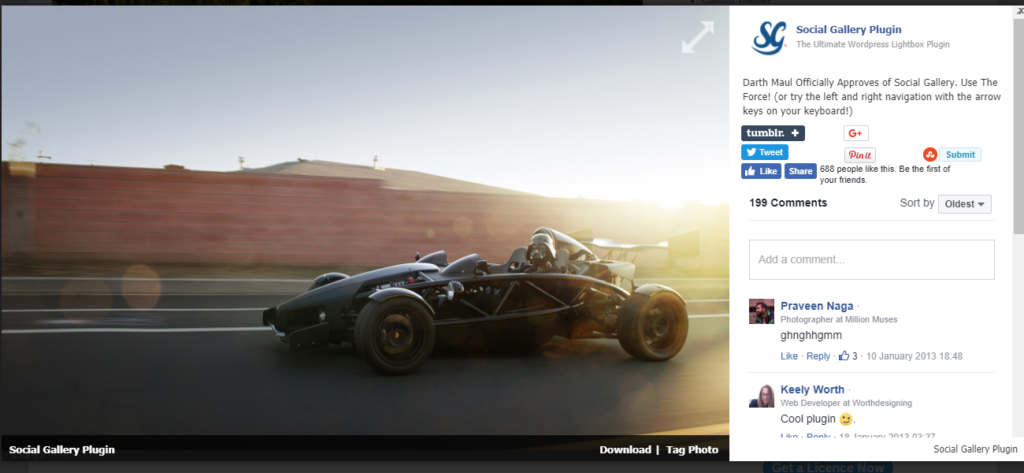 Users can tweet, like, share and pin the image easily with the social sharing icons. The plugin integrates closely with Facebook but also with Twitter, Pinterest, Google Plus, LinkedIn, StumbleUpon and Tumblr.
Your visitors can discuss the image right there on the image itself with Facebook style commenting. No need to leave your website to add their comments or get to grips with a different comments system. And new users can see the discussion going on and join in.
Here's some social proof of our own:
I love SG because now instead of sending all of my traffic to our facebook page to view photos from events, I can drive traffic to our site while still keeping the same look at feel of Facebook. – www.boomentertainment.com
You can even tag people on the image, just like on Facebook.
Social Gallery Pro is easy to install and customise and works out the box with 99% of themes. So you can start boosting your social shares straight away.
Then there are more plugins to build on Social Gallery Pro. Want to do the same thing with video? Social Gallery Video Viewer is for you. Supercharge your videos with social sharing.
Make it all responsive for mobile viewing with the Social Gallery Mobile add on. Lots of social networking and casual web browsing happens on mobile now, so make sure your site is optimised for it.
Use simple shortcodes to enhance your gallery with Social Gallery Shortcodes and keep track of all your social shares with Social Gallery Analytics.
It's a full suite of WordPress plugins to get the most social shares from your content.
How to use WordPress plugins to show social proof with Social Buzz
The next trick up your sleeve for how to use WordPress plugins to show your social shares is Social Buzz.
Social Buzz is the ultimate share graph plugin for WordPress. Not only does it give you great looking social sharing buttons for your WordPress page or post and displays the number of shares you get a graph showing a visual of the popularity of a post.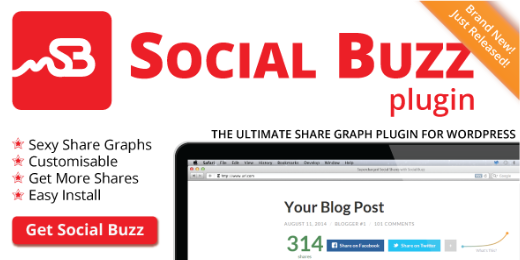 It comes in three different styles and works with Facebook, Twitter, Pinterest, LinkedIn, Google Plus and StumbleUpon. Get a smart, sexy graph showing your article taking off in shares.
This isn't the normal social proof you see on other websites. Most plugins don't automatically show sharing counts and you will very rarely see a graph or chart that gives a real sense of how well an article or post is doing and how popular it is.
It's a fantastic, out of the ordinary, bit of social proof that really stands out on your website, encouraging people to click and get involved themselves.
So, two easy ways to show your social shares with WordPress plugins and how to use WordPress plugins to boost your social proof.
Don't miss our tips for WordPress plugins – add your email below!