We've covered the best WordPress plugins for photographers, with an emphasis on getting your work shared. But what about getting your work sold? Going viral isn't much use if it doesn't translate into cold, hard cash.
Whether you run a stock photography collection, do landscapes, wildlife photography or sell any kind of photography product you need to know the secrets of the best WordPress plugins to sell photos. Even if you work one on one with clients you can use these ideas for their private galleries or find a few general tips to help.
The best WordPress plugins to sell photos work together to make a seamlessly easy experience for your customers, from discovery to purchasing, and for you to manage your business.
Secret #1
Your customers can't buy your photos and your clients can't book your services if they don't know who you are and what you can do. So first of all, you need to be found. Luckily that is easier than ever with images being a high value currency on the social web.
Social Gallery Pro makes sharing your photos incredibly easy. You can get up to five times the engagement by switching to the plugin, plus get a boost from the addons to further customise your gallery. It even works with other popular gallery plugins like NextGen.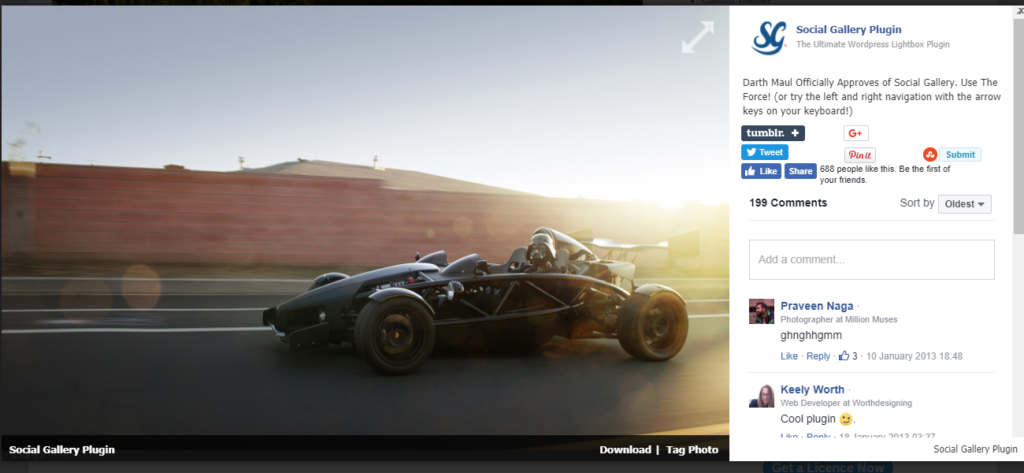 There are easy sharing options right there on the image, including to Facebook, Twitter, Pinterest, LinkedIn, StumbleUpon and Tumblr. Your site visitors can comment on and discuss your photos right there on the image using their Facebook ID and even tag other people on Facebook – all without leaving your site.
Too often the discussion and sharing has to be taken off site and before you know it your potential customers are absorbed with Facebook or another network and never come back. But with Social Gallery Pro all the discussion and sharing stays on your own site.
I love SG because now instead of sending all of my traffic to our facebook page to view photos from events, I can drive traffic to our site while still keeping the same look at feel of Facebook. – www.boomentertainment.com
Secret #2
Now you've got visitors viewing your photos all over the web and coming back to your site with their wallet out, ready to buy. You'd better be ready. Your gallery isn't just for showcasing your photos, it's for selling them too.
Your two biggest, best options for sales are WooCommerce and Easy Digital Downloads. WooCommerce tends towards physical products and Easy Digital Downloads, as the name suggests, specialises in digital products.
Make sure your gallery or portfolio is compatible and ideally already integrated with WooCommerce or Easy Digital Downloads to give your visitors the best buying experience possible. You could send them to a third party website to make their purchases but unexpected surprises like that lead to confused shoppers, abandoned carts and frustrated photographers!
It's so simple to use WooCommerce or Easy Digital Downloads to have the whole transaction happen seamlessly on your own site. It's a better process and a big branding win.
Add more secret sauce plugins to sell your photos
What other great WordPress plugins do you need to sell photos?
High quality images are big images so you definitely need to pay attention to your site's speed. Customers want both great quality pics and a quick site so you need your images optimised and your site cached. W3 Total Cache, WP Super Cache and WP Rocket are all great choices.
Even though your images need to be big and beautiful they also need to be easy to view on the smallest of screens. Mobile responsive and ready to go images and galleries are easy with the Social Gallery Mobile addon plugin.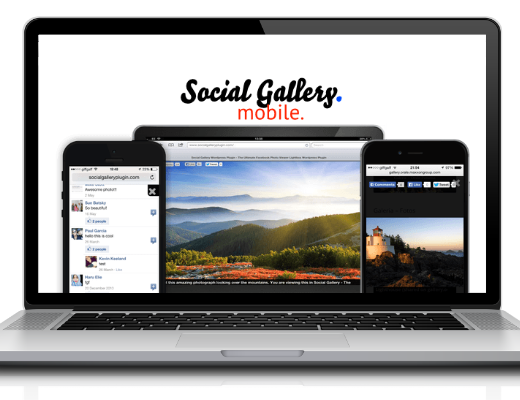 Allow your visitors to create an account to save their favourite photos while also gathering their email address with the Social Gallery Shortcodes extension plugin. The plugin also allows you to fine tune your galleries and add some great effects. Gathering email addresses of interested visitors who have yet to become customers is a great tactic. You can stay in touch regularly with news, sales and offers to entice them back to your site and make a purchase.
Don't forget to add your 500px, Flickr, Instagram and other feeds to your WordPress website to keep it fresh and show off your latest work. Use plugins like Instagram Feed, Flickr Album Gallery or Photonic.
Don't forget your analytics. You need to know which are your most popular pics and where they are being shared. Tools like Google Analytics are great but they have a lot of bells and whistles you might not need and that can get confusing. The Social Gallery Analytics plugin gives you an image by image analytics break down that you can actually use, all within WordPress.
Now you are all set to get out there, pump up your website with these great plugins and sell some photos!
For more ideas and tips on WordPress plugins enter your email below!