A musician's website has to do a lot. You don't know whether your visitor is a long time fan or someone who just heard you for the first time a minute ago on Spotify and googled you. You've got to sell albums, provide samples, list your upcoming gigs, blog about what you've been up to, flog some merchandise, connect with fans and all that.
Overwhelmed with all these different jobs musician websites are often cluttered and overwhelming to use too. Or else they just conform to what everyone else is doing and can end up looking a bit samey – the last thing you want when you are trying to stand out from the crowd.
Obviously the website design has a big role to play and WordPress themes for musicians are covered a lot.
But what about all the extras components to making a great site – the plugins? You get your nice theme and site set up and you will be needing those extensions and add-ons. So here are our picks for the best WordPress plugins for musicians that will improve your site, boost your traffic and increase engagement.
WordPress plugins for musicians to help you sell, sell, sell
Music websites are about more than the selling but sell they must. Don't send your website visitors elsewhere to buy your music or merchandise. Keep them on your site and make the sale yourself.
WooCommerce is an incredibly popular WordPress plugin and used by millions. Most themes include WooCommerce support even if they aren't specifically designed for it.
If you are only dealing in digital then you might also want to consider Easy Digital Downloads, it's simpler than WooCommerce if you don't have any physical products.
Get the email
If you get your fans' email addresses you can let them know about new releases, gigs, and all the good news. Yes there are services out there that will do that for you, but you are giving up an important part of your business if you don't have those addresses yourself. You can drive massive amounts of traffic and market direct to your biggest fans. Offer them a bonus track or other exclusive tidbit in return.
You can get the signup directly from your website or from purchases with the right WordPress plugin. Every mailing list provider has some form of integration with WordPress. Search for the name of your provider in the WordPress plugin directory. Or, form plugins, which we will come to in a moment, often have integrations for the top services. Or you can put something together yourself using IFTTT or Zapier. There's no excuse not to have this, is what I am saying.
Fill in that form
Want your website visitors to be able to send you messages, submit photos and the like? You need a form for your site and that means a plugin. Popular form plugins include Contact Form 7, Gravity Forms, Ninja Forms, Formidable or the form bundled with Jetpack.
You can customise them so they blend in with the rest of your theme and choose what happens to the messages you get sent. Almost all have a paid version for extra features but the basic models are free.
Fan engagement through the roof
Not only do you want to keep fans happy when they visit your site – or turn visitors into fans, but you can also enlist them to spread the word. Fan the flames of engagement with some great WordPress plugins for musicians.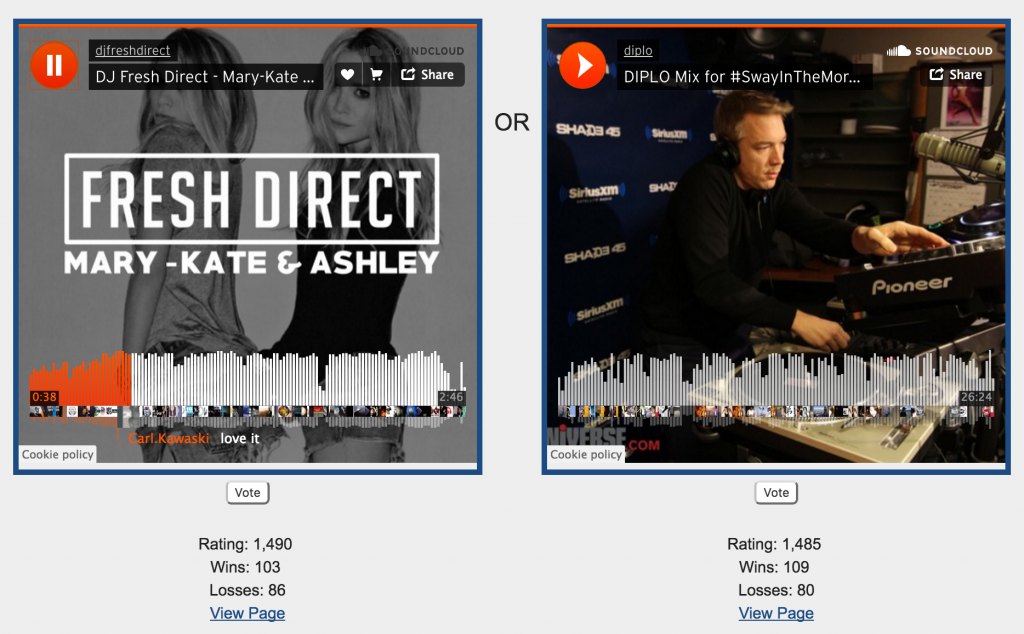 Two fun, engaging plugins are the Sound Mash and Video Mash plugins. They pit music or music videos head to head and let battle commence using a ranking system that can also display top ten winners. Not only can users vote on their favourites but they can comment right there in the video or audio. It's easy to add to your WordPress musician site – just add the plugin and then use the shortcode where you want Sound Mash or Video Mash to appear.
We're about halfway through our list of the best WordPress plugins for musicians and we've still got plenty more top plugins to go.
Listening to music is one thing but you want a full multimedia experience on your website. Show off your music videos or film from your live gigs. Capture the artistry and ambience with photography. You could even run competitions to make music videos and host the results.
But that means you will need some image and video related plugins for your site.
WordPress gallery plugins
It's a really important part of your site but sometimes displaying photos and videos goes badly wrong. Not having a proper gallery at all is the worst offence – just pasting photos into a normal webpage. Even if you do have a gallery they can be slow, clunky and hard to use.
Don't just settle for any old gallery plugin. The Social Gallery set of plugins supercharge your gallery with loads of great features for social sharing to really get your fans involved and spread your images and video far and wide.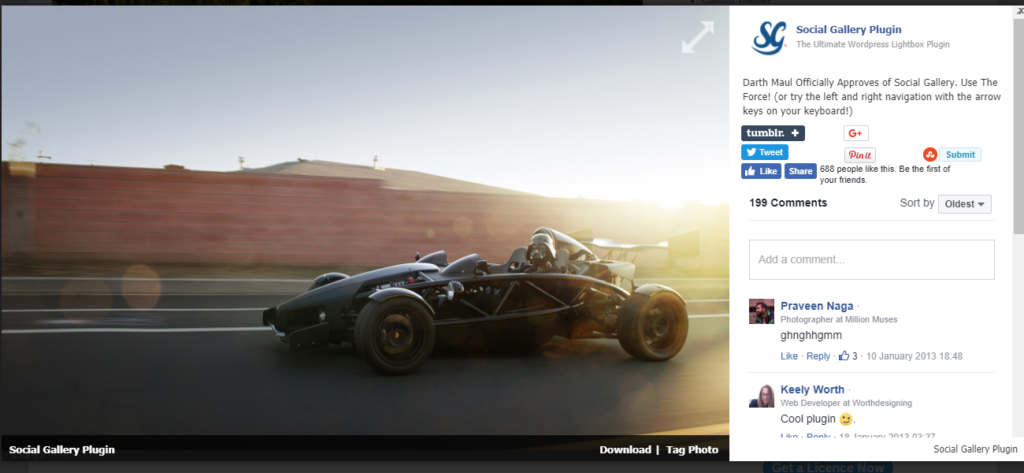 One of the great things about Social Gallery is that it uses a lot of the same tricks for showing images as Facebook. That means your website visitors already know how to use it, because it works the same as their Facebook galleries. Plus they can like, comment and share from inside the gallery. On the image, or video, itself. They can tag themselves or their friends in photos and it will show up on their Facebook timeline – perhaps of themselves at an event, signing, or gig.
Using the shortcodes expansion you can add even more features with extra details for your galleries and allowing users to sign in to save their favourite images.
Social Gallery is a fantastic way to boost your images and video with social sharing features.
Watch your content trend
Show off how well your content is doing with the Social Buzz plugin. It shows a graph of shares and likes that gives social proof as your content trends across the internet. The plugin also gives you those nifty share buttons to make it easy for your audience to pass your content around. You want to be encouraging as much sharing as possible, so make it as easy as possible.
The technicalities: speed and stability, security and backups
Now that you are putting a bit more effort into your music website you will need some plugins to help on the backend with running your site. But don't worry, these WordPress plugins will make easy work of it.
First of all, speed. You don't want frustrated fans leaving your site because everything takes too long to load. And if you get a lucky break and hit with extra traffic you don't want your website to buckle under the load. So the speed and stability of your site is important.
here are plugins that will speed up your site and ease the load on the server. WP Super Cache and W3 Total Cache are two favourite plugins that will make your site faster. They are both free, with paid extras. Or there is WP Rocket, which is a premium plugin that comes highly recommended.
WordPress's own Jetpack plugin has caching features too but it also covers the second area: security and backups. You don't want to be vulnerable to hackers. A few precautions will cut your chances of getting hit dramatically. And the backups are there in case the worst does happen, or there is any other mistake or problem with your site.
Good security plugins are WordFence and Better WordPress Security by iThemes. For backups try your webhost, or there are plugins like BackupBuddy and VaultPress.
Get your fans off your site and along to your gigs and events
You can do so much more than a simple list of tour dates and venues. These events plugins are fantastic WordPress plugins for musicians because they really promote your shows in ways few other musicians are.
Modern Tribe's Events Calendar is a premium plugin that will cost you, but it will be worth it. Visitors can view your events in a calendar with filters and a map, and you can even sell tickets yourself. For something a little simpler, the aptly-named Simple Calendar hooks up your Google calendar to your WordPress site. It fits with your theme and doesn't need any coding.
Whether you want to go fully-featured or stripped-back simple, all musician's websites should be using an events plugin. It's definitely one of our top recommendations for WordPress plugins musicians should use.
It's also our last recommendation as we have come to the end of our round-up.
These amazing WordPress plugins musicians should use show you what can be done with your musician's website. It can be so much more than a hodge-podge collection of photos, some Soundcloud links and bland list of tour dates. Really put your site to work, and make it easy and fun for your fans to use. You'll get more engagement and shares when you do.
Don't miss more guides on must-have WordPress plugins – add your email below!