The plugin has been updated with an additional option. It allows you to set your post thumbnail (featured image) from an external URL without uploading the image to your WordPress media library.
Note this only works if your theme uses the get_the_post_thumbnail(); function in its coding. The plugin now has two options:-
Set featured image from external URL – uses a filter to replace the output of get_the_post_thumbnail (may not work in all themes that write their own function for displaying post thumbnails). The file remains on the external server location.

Upload image from external URL and set as featured image. This uploads the external image to your media library and attaches it to your post as the featured image (this may be better for display if linking to large images as they will be crunched by the WordPress image crunching routine). The file will be copied and stored on your own server.
Depending on your theme design and image display preference you can choose which one you wish to use through the use of this plugin.
6 APRIL 2013 UPDATE: THIS PLUGIN NOW HAS ITS VERY OWN CHROME EXTENSION TO MAKE BLOGGING EVEN EASIER
There's one thing that has been bugging me for a while about WordPress and the featured images / post thumbnail functionality. What's that one thing? It's how you cannot easily set a featured image from an external URL.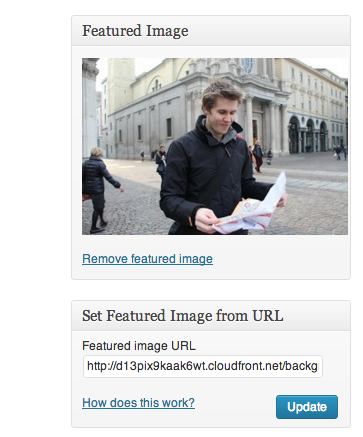 WordPress only allows you to set the featured image of a post (or custom post / page etc) as an item that is already in your media library. So if you see a cool image that you'd like to use. You have to save it, upload it, then insert it. A bit of a pain to do.
Why don't they allow you to do this? Well because the post thumbnails used by WordPress goes through a fair bit of processing and they display them as 150×150 images (rather than massive 10MB images if you were to simply use an external URL of a large image).
I decided to do something about this. I read through all the WordPress codex and through the "core" code of the popular CMS platform and I have developed a nice and easy plugin that lets you set your posts "featured image" by URL. I thought it would be useful to share. So I've put it up on the store for a nice low price.
Why am I selling this? Well all EPIC plugins are so valuable that they deserve a price tag. This price tag is so low, that's it's almost like saying. Hey Mike that's cool, let me buy you a cup of coffee so you can carry on making these EPIC plugins.
What's a quick cup of coffee in return for something that can save you endless hours of time in your future blogging / website management. I say… priceless!
So How does it work?
A new meta box is added to your post pages (you can move this anywhere you like)

Enter the link to the external image you'd like as the featured image (make sure you have permission to use the images)
Click update

This prompts WordPress to look at the URL
If it's an image it will add it to your media library and crunch it
It will then set the image as your posts featured image

You'll then feel all EPIC because you've just saved yourself a TON of time
It's really that easy!
Join me along the way
Will I succeed, will I fail? Either way I'll be doing what I love. Sign up to keep up to date with my story.