Going viral isn't just a lucky bolt out of the blue. While the magical winds of the internet can't be completely tamed there are definitely things you can do to maximise your chances of getting lucky, tools you can use and issues you can prepare for.
What WordPress plugins do you need to go viral? Well, nothing is going to magic up a viral storm but here's a selection of plugins, tools and tips that will put you in the best position.
In the beginning: something worth going viral
First things first – you have to have content worth going viral. No plugin or hack is going to get round that.
How do you create great content? Know what your audience wants. Give it to them.
Track what they respond to and what is the most popular. You'll need to set up some analytics tracking and there are plugins that will do that for you within WordPress. Monster Insights' Google Analytics for WordPress is a popular one, and the Jetpack plugin has analytics tracking too.
Social Gallery Analytics is part of the powerful Social Gallery suite of plugins and lets you see how your images are being shared. You can tailor content around your most popular images and make sure you post more of the most popular stuff, riding the wave to a viral breakout.
Make it long. Some smart bloggers have done the research and longer blog posts massively outperform short ones in terms of shares, SEO and conversions.
Or, on the other hand, make it really short. Comics, quizzes, Vines, tweets, images, memes, videos, adverts and so on all have huge viral possibilities.
Buzzfeed grew to enormous popularity with their viral, super-shareable quizzes. Add in some clickbaity headlines and plenty of pop culture and you have an internet superstar.
It's not quite judging a book by its cover, but people definitely judge an article by its headline. Clickbait headlines dominate because people really do click on them. Look at examples of high-traffic headlines and you will quickly see the similarities and patterns that come up. CoSchedule's Headline Analyzer is less clickbait and more business but a great tool for coming up with punchy, powerful headlines.
Like the long vs short issue, the subject matter can be evergreen or breaking news. But not much in between. No-one is interested in your hot-take on last month's events. Today's events, yes. A comprehensive resource on all the previous events, yes too.
"What WordPress plugins do I need to create viral content?"
Need a hand creating that viral content? These are the WordPress plugins you need to easily make top content that is sure to get lots of shares, and maybe even go viral.
The super-simple Battle Vote plugin lets social shares decide the result on easy A vs B polls. Adding a short poll to your content is a great way to increase engagement and get more shares.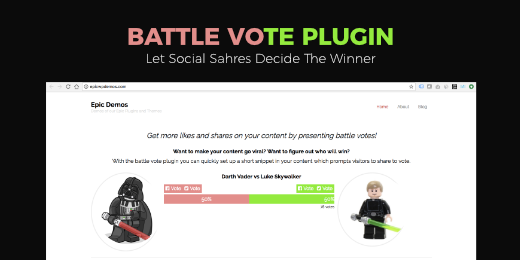 Easy Polling plugin is exactly that – striking, simple polls for your WordPress site. And with the Social Polling addon you get Facebook Questions style polling. People love polls on Facebook and now you can get the same look and feel on your WordPress website. Your readers vote with their Facebook ID, great for encouraging shares and as social proof. And there's a version for BuddyPress too.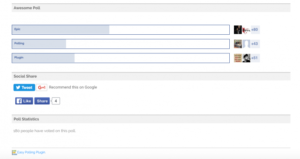 Opinion8 is a polling plugin that lets you create opinion polls within WordPress. When they complete the poll the results are shown along with sharing options so they can easily share on their social networks.
How about a Dilemma? Ask your visitors to choose between two options. You can show the poll in a widget in your sidebar and encourage people to play using social proof.
QuizBox lets you manage unlimited quizzes within WordPress with great images to accompany them and all the social sharing options included.
Mash it up with images, audio or video Face Mash-style and these fantastic interactive game plugins. Pics Mash for image rating, Sound Mash for songs and audio, and videos with Video Mash. Create new posts and add the content via YouTube, Vimeo, Soundcloud and other sources. Then let your visitors rate and battle it out with algorithms to calculate the most popular content.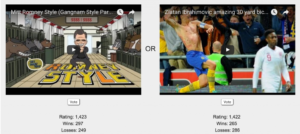 These easy WordPress plugins are exactly what you need to make viral-worthy content and get it on your site. No coding necessary.
But what other WordPress plugins do you need in order to see your content lift off and your shares skyrocket?
"What WordPress plugins do I need for social shares?"
Social media and networking is the whole point of going viral. You need something share-worthy and you need to make it easy to share.
It's common now to see social sharing buttons on blog posts and audiences come to expect their lives to be made easy. Some top plugins for that include Digg Digg and Social Sharing Plugin.
Add the Social Buzz plugin for great social sharing buttons and a social proof-boosting shares graph that shows how popular your content is.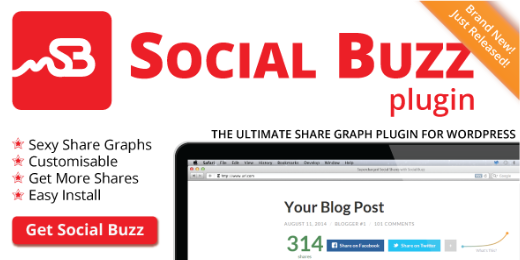 Then there's tools like Click To Tweet and plugins that will make tweetable quotes for you. People love to share great content with their followers, so make it a straightforward process.
To get a boost on your shares you could try something like Pay with a Like – a firewall for social sharing.
Social Gallery Pro is the foundation of the Social Gallery suite of plugins from Epic Plugins. It makes your galleries and images social sharing powerhouses. It's a Facebook style lightbox for your images and galleries with commenting enabled on the image itself, as well as powerful sharing options.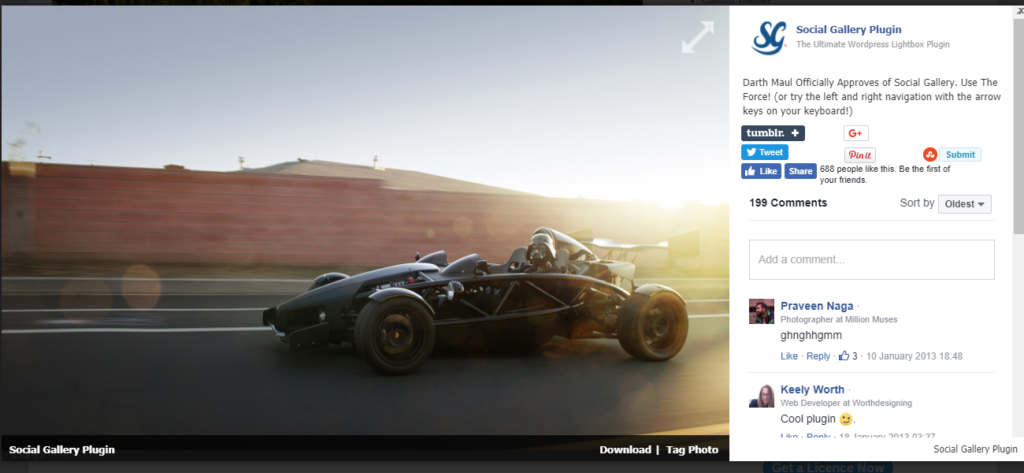 Want to know how to get Facebook style images in WordPress? This is the plugin you need.
Build it out with Social Gallery Video Viewer for the same treatment on video, Social Gallery Shortcodes for even more easy customisation, the Social Gallery Mobile add on for mobile responsiveness, and Social Gallery Analytics to know what's most popular and what is being shared where.
"What other WordPress plugins do I need if I want to go viral?"
Having the content and giving people a way to share it are the essentials but there are a few more plugins, tools and ideas that will really help you go viral and make the most of it when you do.
SEO is an important force in discoverability. Going viral you are more relying on people to spread the word. But it's definitely worth having a plugin like Yoast SEO or All in One SEO Pack. They sit inside the WordPress composer and give you live tips on how to maximise the SEO value of your article.
Are you ready for your site to hit the big time? Don't let your viral explosion take your site down. WordPress caching plugins like W3 Total Cache will keep you up and running with all that traffic visiting your site.
Don't rely on your readers to do all the hard work publicising your piece. You can seed the virality yourself. Push the content out on your social media profiles and networks, and some more besides. Submit it to relevant link sharing sites. Write up another post about it and submit it on Medium, Tumblr, industry forums or sites, anywhere your audience are and it might get traction.
WordPress' own Jetpack plugin allows you to link lots of social accounts and will automatically update them when your blog posts go up. If something you use isn't covered you can build your own publiciser with a service like IFTTT or Zapier. Taking the RSS feed from your blog you can update thousands of connected services.
The little things can make a big difference. Look at when you are scheduling your posts and social media updates. Buffer has a scheduler that can automatically post at the best times for shares and engagement.
Build a viral launch with Maitre, where you can set up refer-a-friend, contests, waiting lists and other tricks to have your launch go viral. Combine with the quizzes and polls to really start a buzz.
You want to make the most of the new traffic you are getting and sign them up to your email list, or send them more information on your products. Set up your landing page with the Landdr plugin for unlimited, customisable, landing page templates. Or the Sumo plugins include a bunch of great welcome mats, email signup forms and so on.
All the WordPress plugins you need to go viral
If you want to set yourself up for viral success you need the best, can't-get-enough content. Our top tip here is for short quizzes and polls. Easy to make and organise with these recommended plugins and built to go viral.
Then you need to set your site and content up for easy viral sharing and make sure you are ready for the onslaught of traffic you could be getting.
Add in a touch of good luck to your hard work getting set up and you will be building your audience, getting great social shares and engagement and your content will take off.
Don't miss more fantastic WordPress plugin recommendations and tips – sign up to our newsletter below!